The city of London is one of the most exciting cities in the world. With all of the tourist attractions, the architecture, beautiful scenery, and skyline - there is so much to see and do. However, it's often fun to take yourself away from the tourist traps and check out where the locals hang out. So why not visit a street market? London is absolutely full of them, and here are some of the best!
Camden Market
If you're traveling to London, you just can't leave without visiting Camden Town. It's buzzing with eclectic people, then there's the beautiful locks, iconic brick arches, and not forgetting the world-famous Camden Market! This market offers over 1000 market stalls and shops that sell everything from clothes, to furniture, to handcrafted goods and yummy food. The market is strewn out across numerous lanes and roads, which allows you to take in the sights at the same time. Get yourself a new bag, stop off for a Dutch pancake and then make your way to the side of the lock to take in an outside screening of a movie, or laugh your socks off at a comedy show. They have it all at the Camden Market!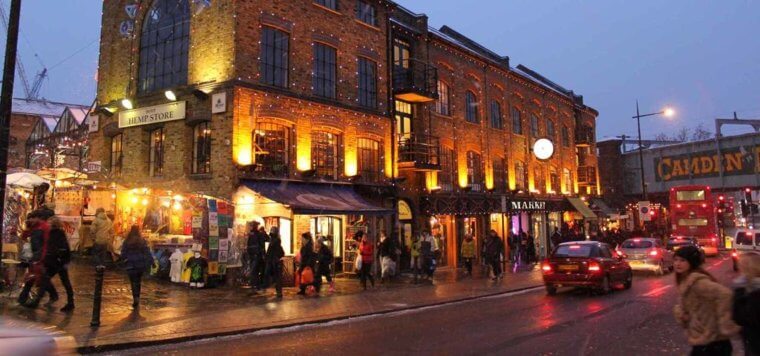 Borough Market
Borough Market is a slice of London history. As one of the biggest and the largest markets in the city, it's hugely popular - and it's easy to tell why. The market itself is the perfect place for people who love food, as the Borough Market is primarily a wholesale market, selling fresh fruits and vegetables and produce. But don't worry, it's not just typical London food they sell. Sellers from across the UK travel to the market in the early hours of the morning to make sure visitors can try out and buy some of the best food England has to offer. Much of the proceeds from the market go towards numerous charities, so you can do your bit to help at the same time.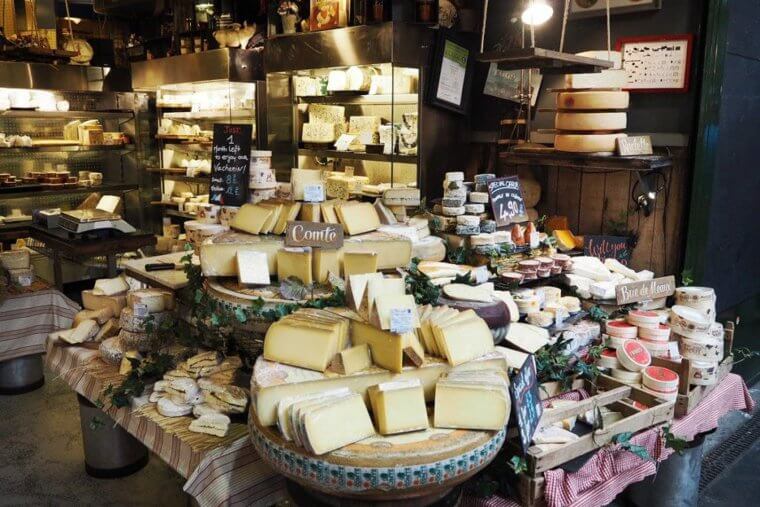 Portobello Road Market
You've probably seen the iconic 'Notting Hill' movie. Well, right slap bang in the middle of Notting Hill in London is the Portobello Road Market - and it really isn't something to be missed. This market is full of everything you could possibly want, from traders all across the UK. Although you can visit any day, it's best to visit on Saturdays, as this is when the whole market is open. You can buy everything you can think of there, such as furniture, clothing, second-hand products, food, antiques and more. Alongside the market stalls, there are also numerous cafes and restaurants lining the road to give you a break after all of that shopping.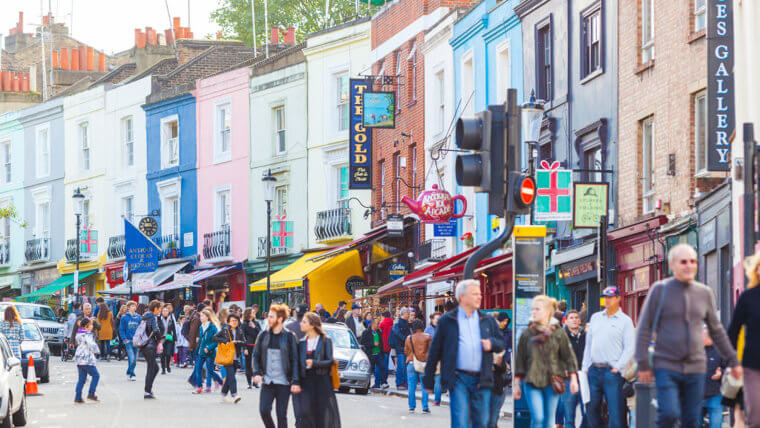 Brick Lane Market
Brick Lane is the perfect market to visit if you don't really know what you want. This market, located in East London, is known across the UK for selling everything from books to retro furniture, to rusty cogs! But that's what makes this market so darn awesome - because they will be selling anything and everything. Borough Market is a breeding ground for antique dealers and bargain hunters who want to find some hidden gems for a cheap price. What will you find?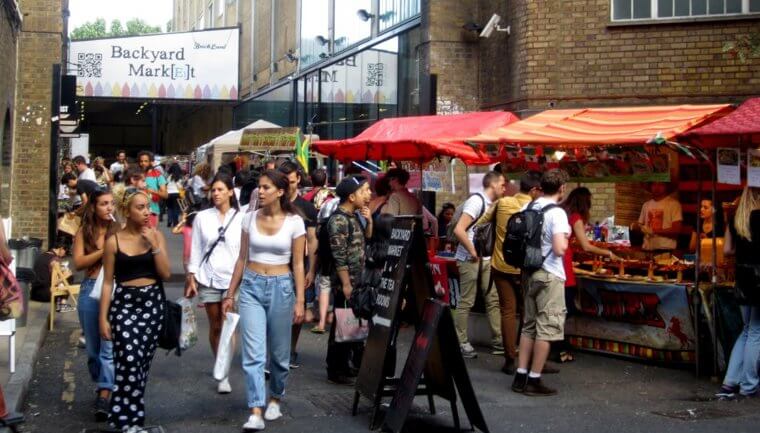 Colombia Road Flower Market
If you're looking to brighten your day, the Colombia Road Market will do just that. This market takes place every Sunday in East London and welcomes hundreds of flower enthusiasts each week. But don't worry, you don't need to know anything about flowers to visit! Many people wander around the market to check out all of the sights, smells, and colors of these beautiful flowers in the center of busy London. However, Colombia Road Market also offers clothing stalls, food stalls, furniture stalls and more to give their customers what they want. We bet you won't be able to leave without buying something!
London is full to the brim with history and quirky little corners that you'll find some hidden gems. Whether it's an artisan coffee shop or a funky bar that sells 193,739 different types of gin, there's something for everyone in London. It's no secret, though, that if you really want to experience the best that London has to offer, you need to go to its markets. So now you know which markets are on offer, and can take your pick. Better yet, go to all of them!