There are many different people to blame for these crazy situations that are just inviting disaster, injury, and lawsuits. From contractors and architects, to packaging desiers, and more, these people clearly had all of their logic leave them when they made these decisions. The result? Very risky products, playgrounds, buildings, and... well, just read on to see more of the craziness.
Healing or harmful?
Sure, these spiritual gemstones look pretty. Look, we're not saying that these crystals don't transmit positive energy. Let's just hope they are strong enough to prevent an accident from happening because the placement of these stones would make a fairly harmless car accident actually turn very harmful.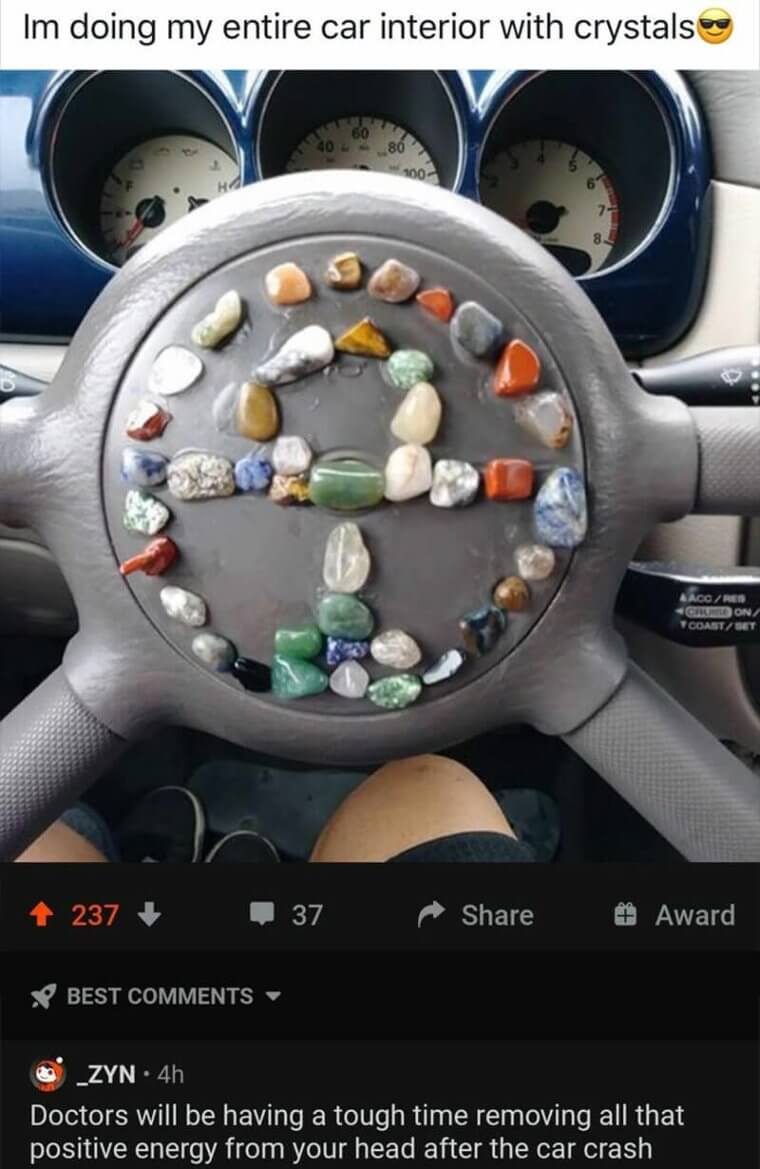 Imagine hitting your head on those (one of them even looks really pointy). Ouch. Maybe just stick to positive thoughts when you're driving… That's surely safer, right?
Dangerous Branding
Tesco (an Indonesian brand) really does need to rethink its brand strategy. Of course, successful branding uses similar themes and colors, that's fine. But making these two very different products look so similar really is a disaster waiting to happen.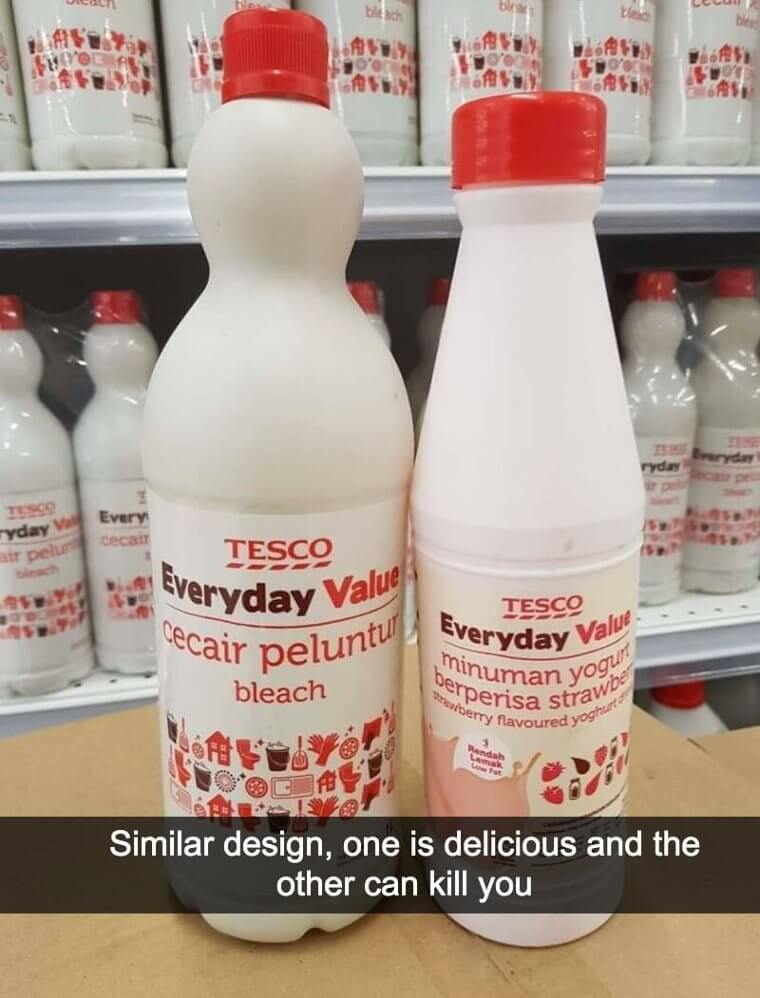 Even if the words say what it is, so much of the time, we recognize things based on the visuals. It just takes one sleepy evening reaching for the strawberry yogurt to end up in the hospital having just ingested bleach.
No way
This makes us want to rethink every carousel we've ever been on. Especially those pop-up fairs that come to town. Have you ever looked at the foundations of the rides before you got on one? Neither have we!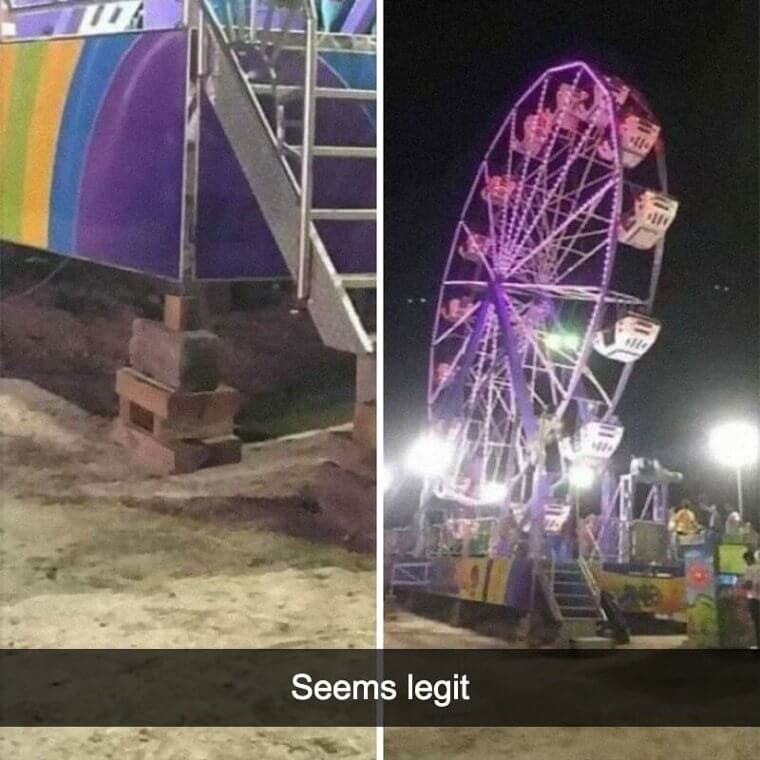 But after seeing this picture, this gives us a huge motivation to always make sure that the ride is not being propped up by random bricks and blocks of wood. A strong gust of wind might make that whole ride topple over!
No logic
To put a zipper on the cover really is inviting people to unzip and clean this mattress cover. A small warning isn't enough when it comes to severe health risks that fiberglass can create for people. And all the company said was "that's why we said not to unzip." Wow.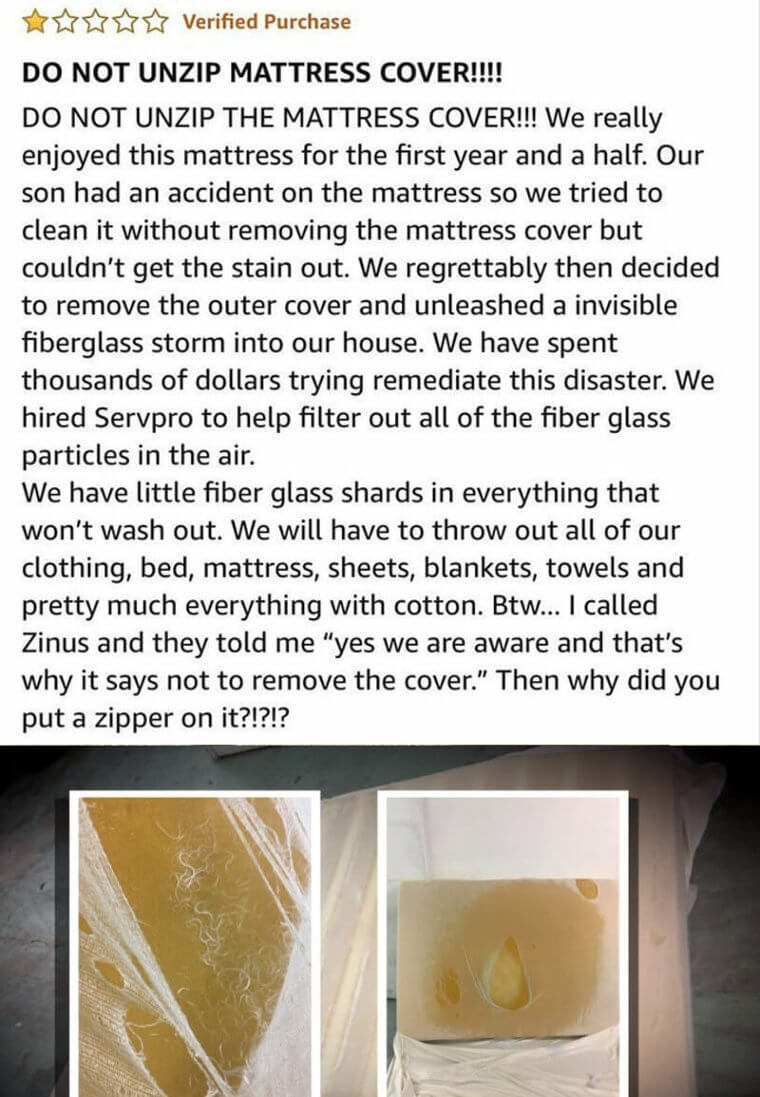 Thankfully, these customers had the thoughtfulness to let other potential buyers know the dangers of this product because clearly, the company is not going to take responsibility.
What?
Hair bleach? The words say one thing, but the visuals say something entirely different. It also looks so much like a child's box of cereal, that any kid who can't yet read and understand the words 'hair bleach' is in serious danger.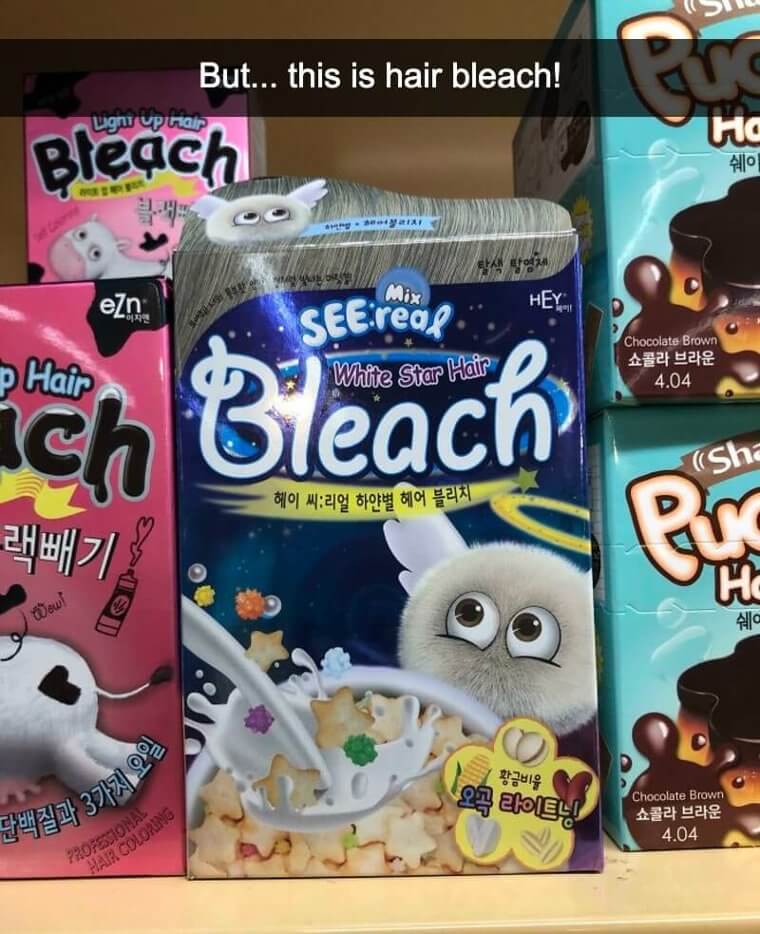 What if they're reaching for their breakfast or snack without an adult around to steer them away from the hair bleach? Did this company just run out of hair bleach bottles and decide to reuse their cereal boxes?
Don't press it
This will make anyone not want to press the fire alarm in the case of a deadly fire. What if the policemen or firemen show up too late?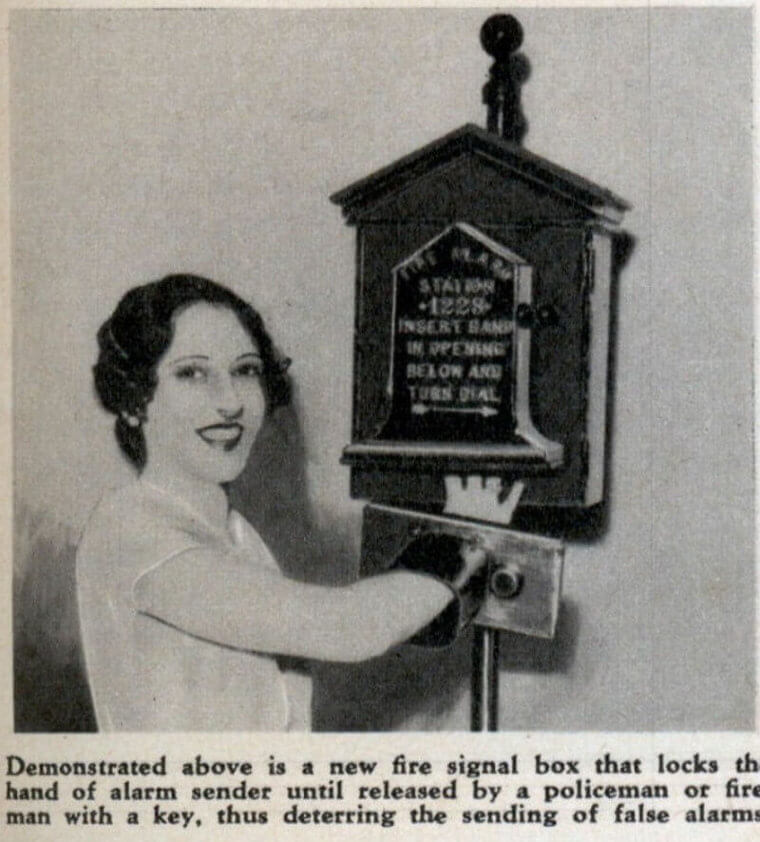 What if the fire is right next to the alarm box? It looks like this product wasn't around for very long, since it's a very old advertisement and we clearly don't use them anywhere in the world now. Hopefully, it wasn't the worst-case scenario that took this product off the market.
Looks cool
Okay, at first glance, this actually looks awesome. We'll give the creator high points for aesthetics. The functionality? Not so much. Not only would it be terrible if grandma was stuck on the porch, but what about the kids or the dog?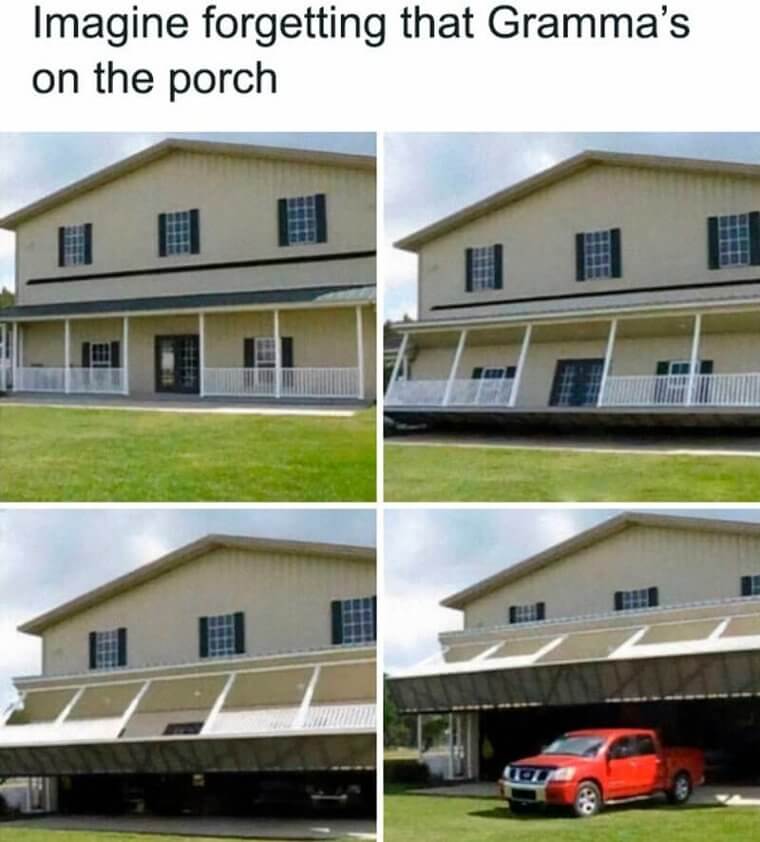 At least a cat would easily be able to jump off. Everyone else, they're stuck having a weird experience that feels like their house has turned into an amusement park ride (and not the fun kind).
Not this machine
When your child wants to win a prize, don't choose this machine. Stick with the fluffy toys. At least you know you won't run the risk of mistaking a fluffy bear toy for a real bear.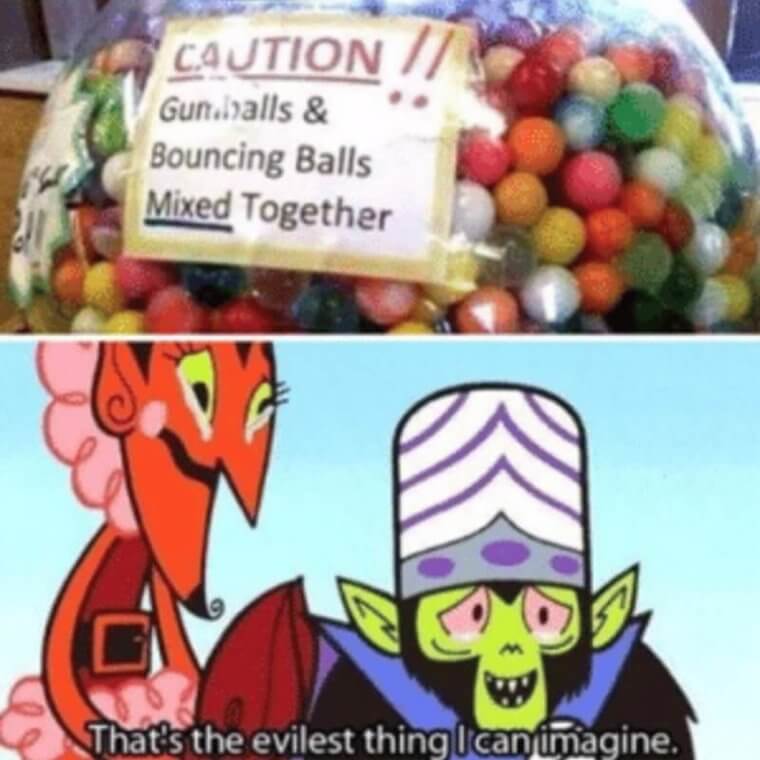 That's the level of risk that this toy has. One of them can be eaten, the other might be fatal if ingested. They both look exactly the same. Who, in their right mind, would ever think that this is a good idea?
Open it first
Before you try to do anything with this product (whatever it is), make sure you open every part of the box. Yes, even the cardboard that is glued over top of the box, for some strange reason.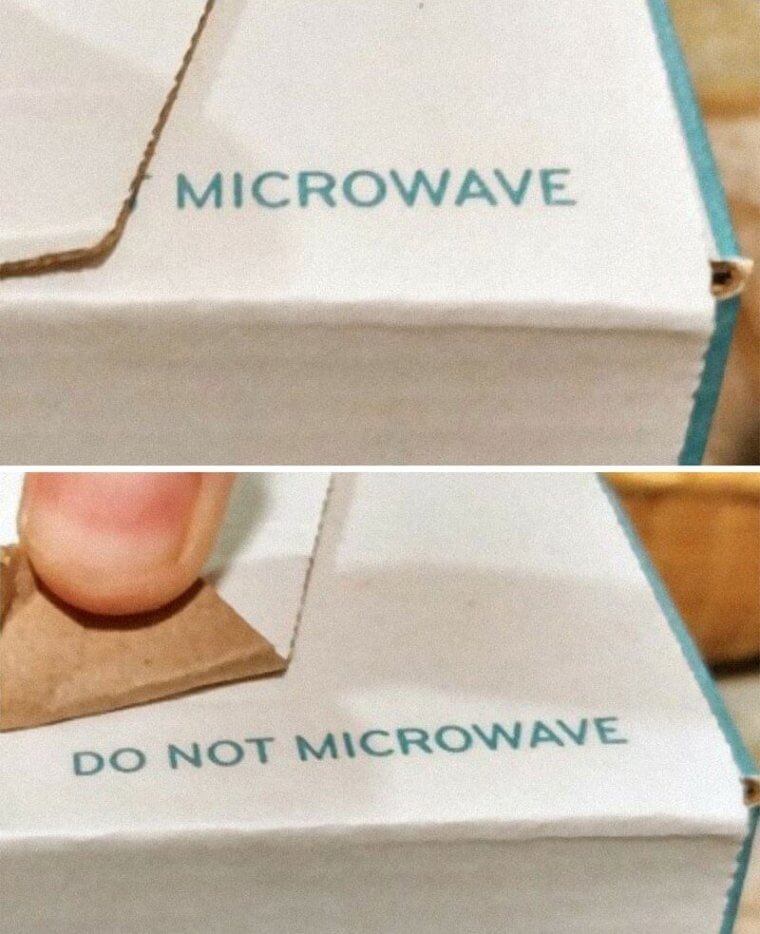 You don't want to miss those safety warnings that could be the difference between an exploding household item and a safe home. It may not have been intentional to hide the safety warning, so we suggest next time having the graphic design and box design team work together.
Adrenaline accessible
This path is fully wheelchair accessible. You've just gotta have some strong arms to get up that path, and some real courage to race down it! Hopefully, the fine print says that it's accessible only to adrenaline-loving wheelchair-using persons.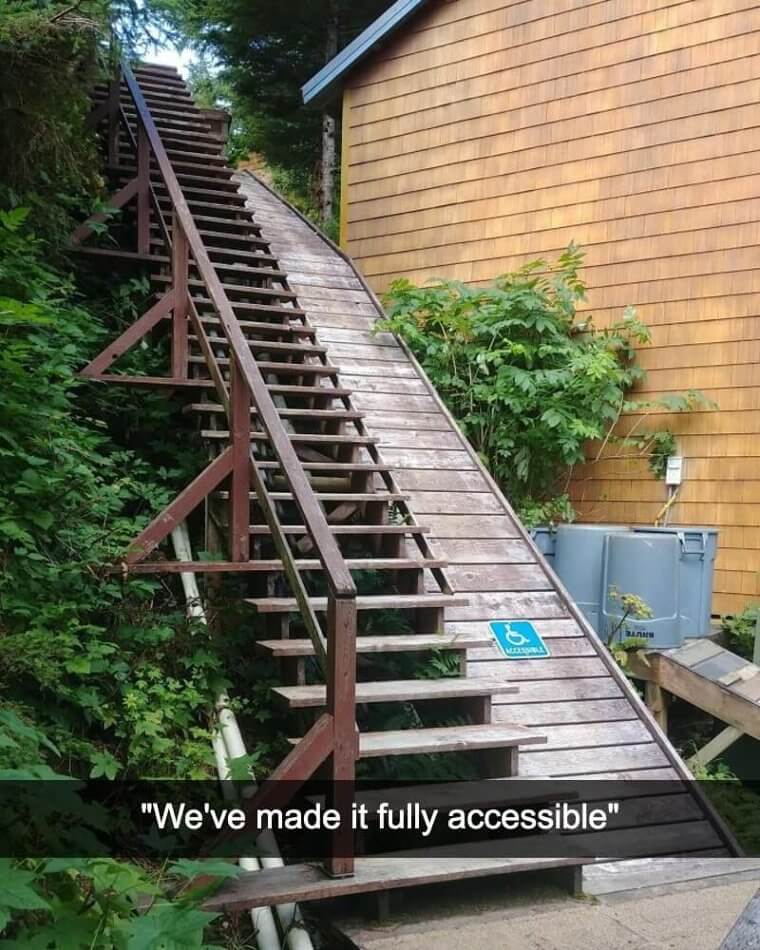 Everyone else that wants a calm and safe journey with no risk of death? This path isn't for you. Best to go a different way, or not go to wherever this path leads at all.
Double trouble
This is another example of branding consistency gone wrong. Please stop sacrificing safety and health for being 'recognizable.' A simple logo would suffice.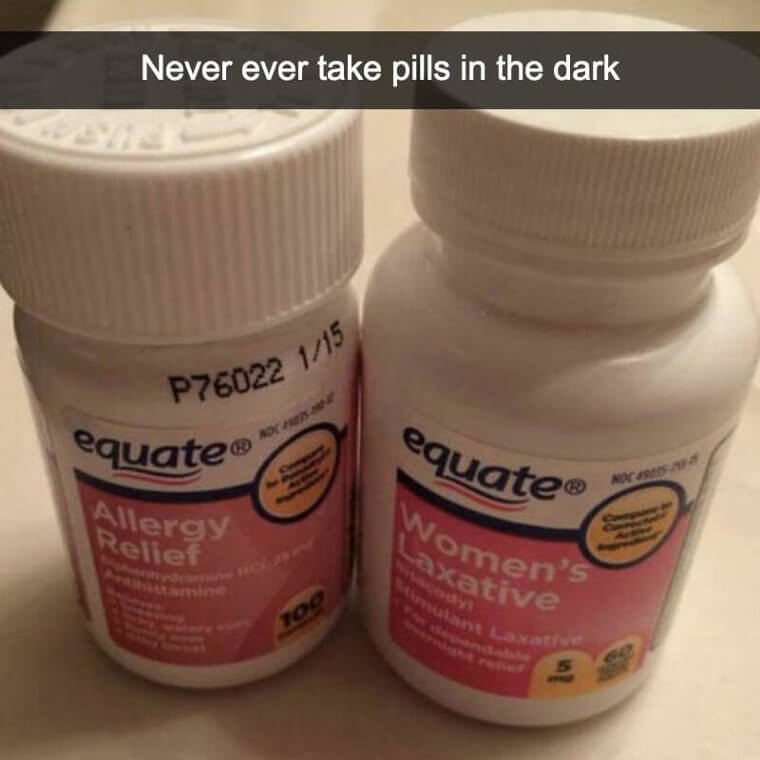 Otherwise, you get people into some concerning situations, like not being able to leave the toilet when all they wanted was some relief from their allergies. Or trying to treat their digestive dysfunction but only feeling more clear in their nasal passage, not in the place they actually needed a clearer functioning system.
Thoughtless placement
This truly was the most thoughtless placement of a lawn sprinkler. Or was the sprinkler there first, but the electrical box placed thereafter? Either way, both of these objects shouldn't be anywhere near each other.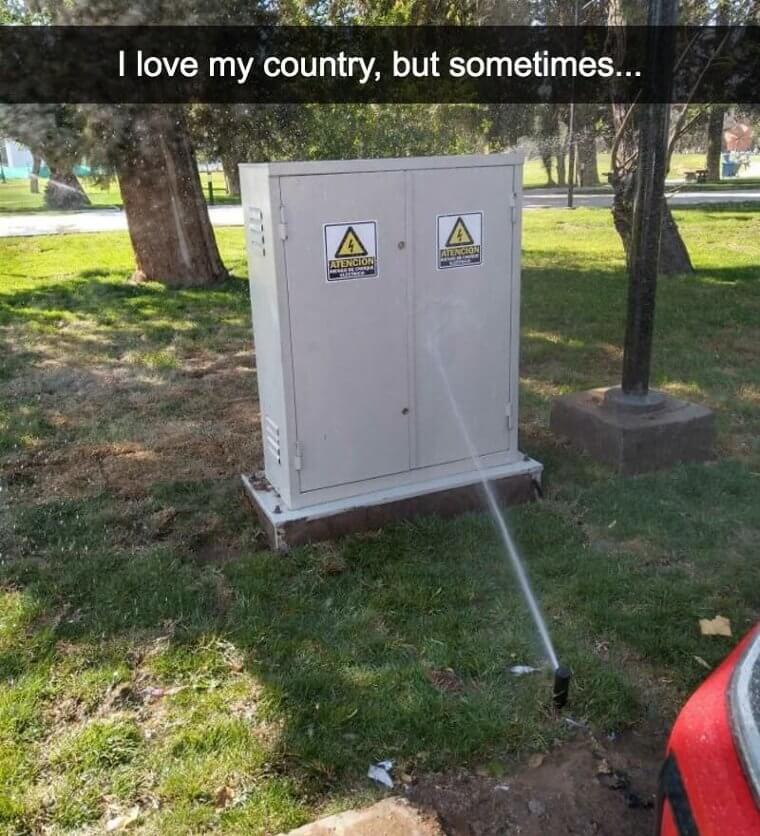 The water should be directed at the grass only, and the electrical box, far away from water (preferably undercover). It's like they got a newbie who didn't understand the laws of nature to install these things at what looks to be a public park.
Don't do it
You can do it, if what you're thinking of doing is just shaving your body. Any other thought that comes up about what you could do with a single edge ultra-sharp razor blade, don't do it.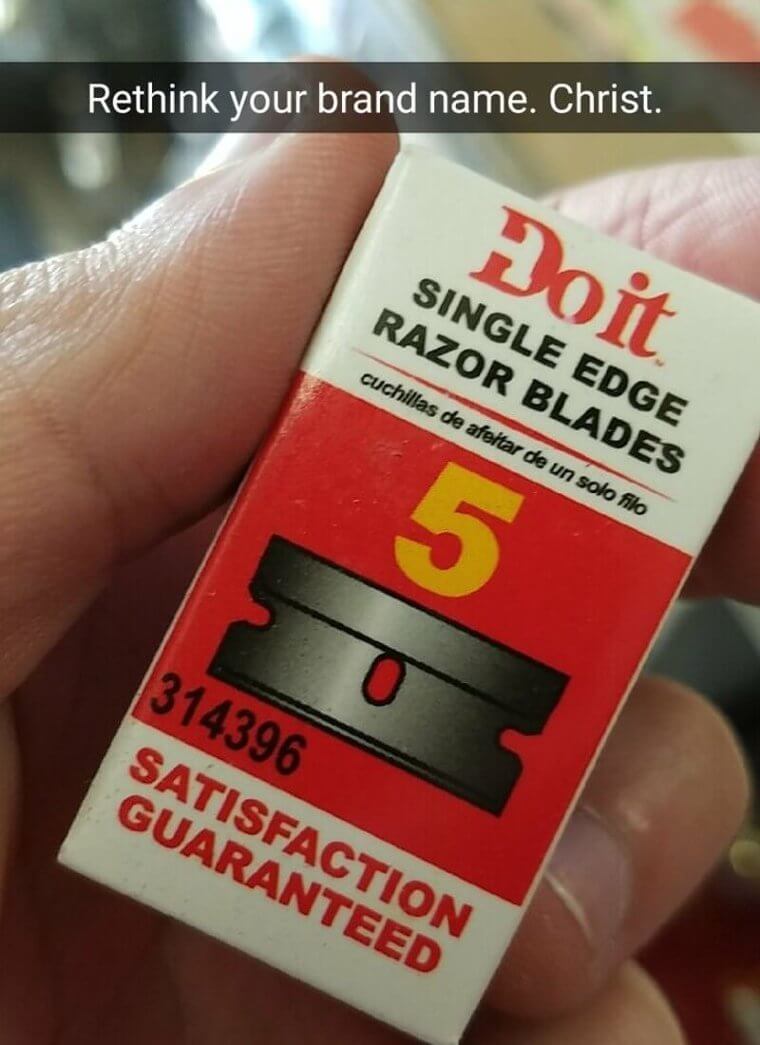 We don't care what the box says, just don't. Your life (and others) is worth more than that. We agree, this company really needs to rethink its brand name, or at least just stop selling razors. That's just scary.
Closed
Shouldn't waterslides lead to a pool? Or some kind of very soft and safe landing? This is insane. It looks like the laws of physics were totally ignored here too.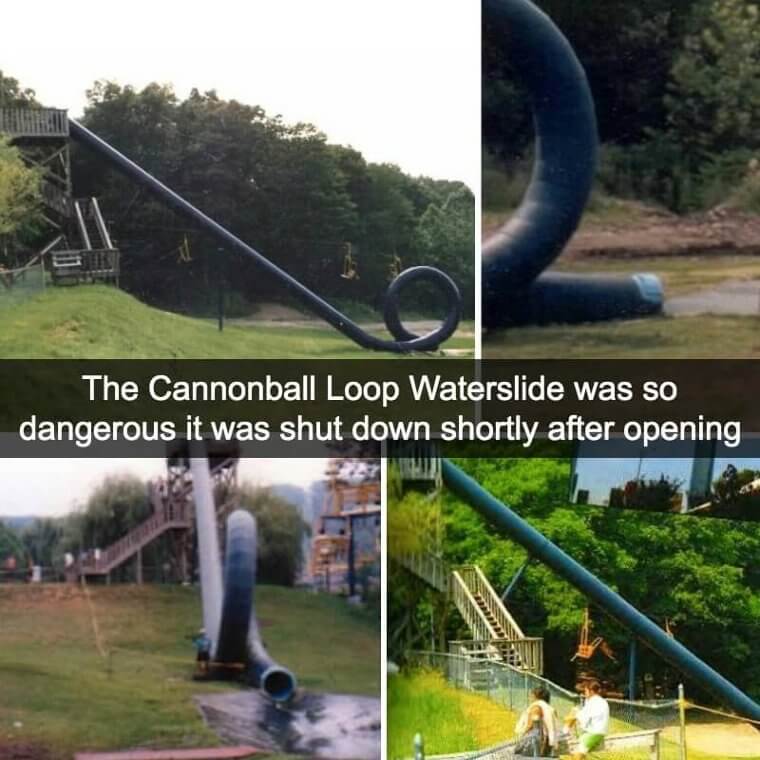 Not only does The Cannonball Loop Waterslide not have a proper landing once people are expelled from the ride, but it also ends way too soon after getting massive momentum from the upside-down loop - making the person shoot out way too fast. Everything about this is not okay. Thankfully, it shut down, as it should've been.
Cool (but crazy)
This design looks awesome, but the placement of the actual extinguisher? It's crazy. It blends seamlessly into the poster behind it that at first glance, you probably thought that you were just looking at a poster. Nope. It's a mounted extinguisher blending far too well into the background.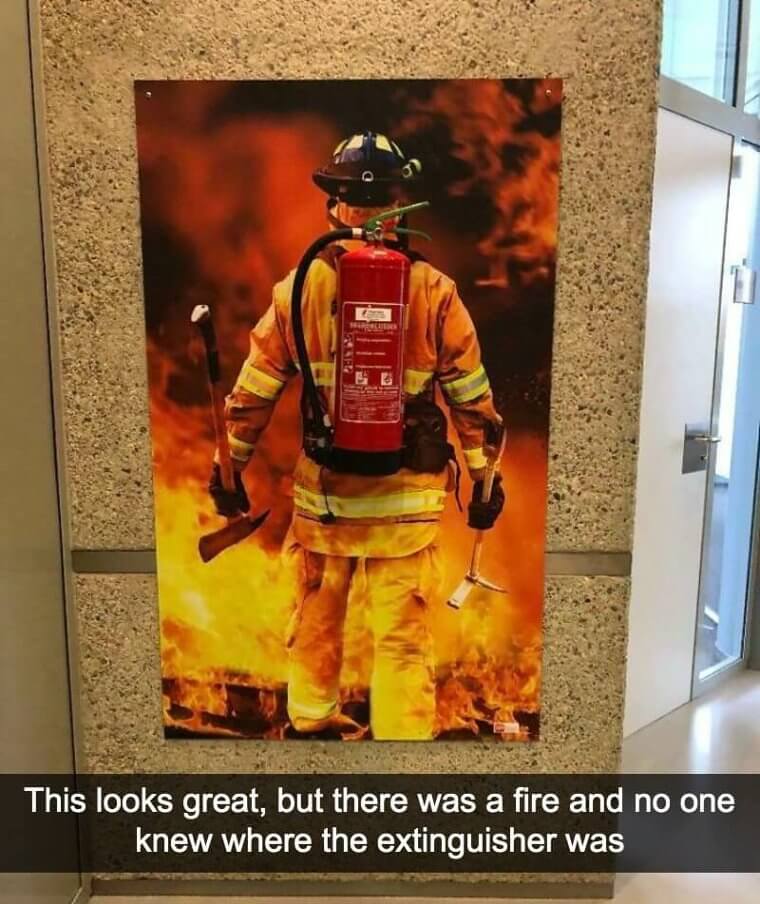 No one needs this kind of confusion when trying to find a way to combat fire in a risky situation. The moral of the story here: use simple, eye-catching, contrasting backgrounds so everyone can see the extinguisher.
Meeting regulations
There's a lot of irony in the shady things that companies do to meet regulations. When it comes to huge sporting games - especially that of football - people will do anything. Have you ever been to a match in one of these stadiums?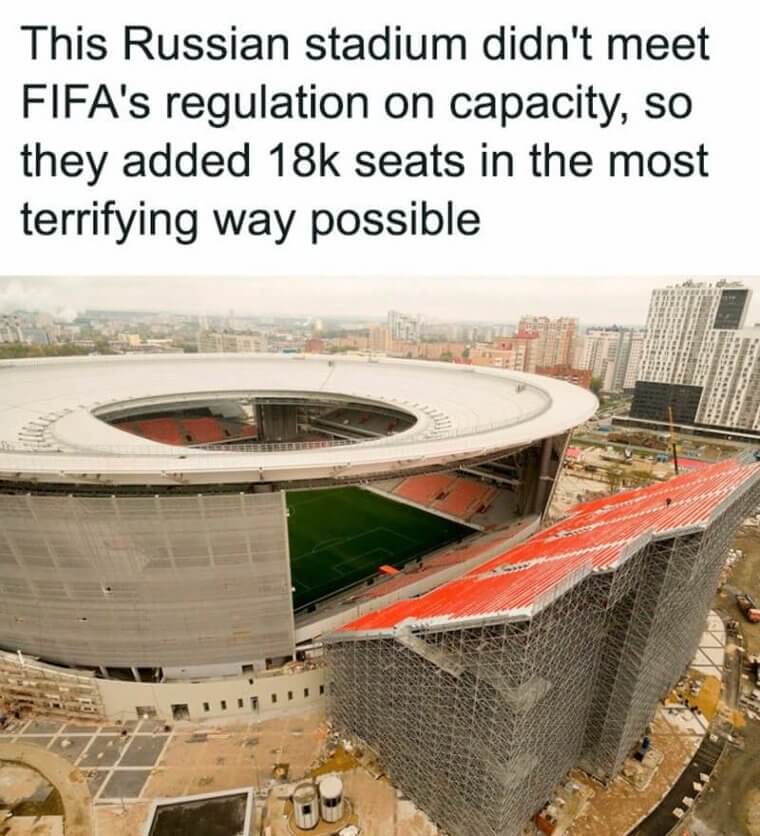 Did you know that this is what it looks like underneath the seats? Neither did we! To be honest, ignorance was bliss. It feels way safer not knowing how things are constructed, sometimes.
Zen calm
It was supposed to promote more calm and connection to nature. When they told their interior designer that they wanted their space to be more 'zen', they did imagine some natural additions, like stones.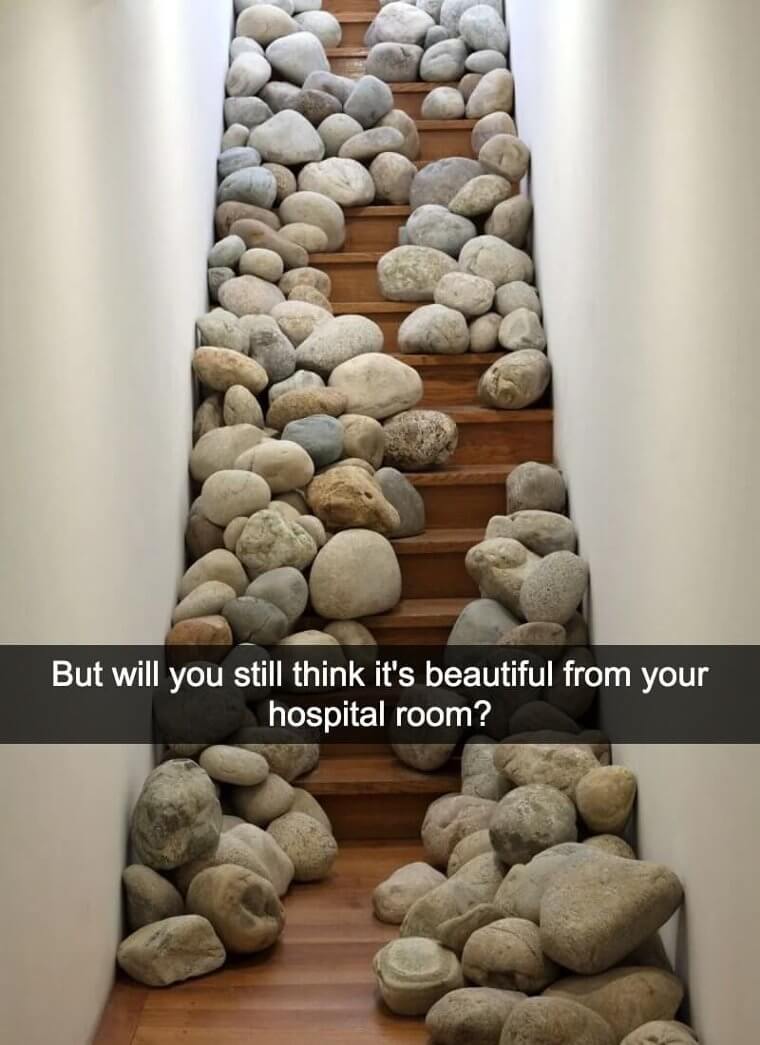 What they didn't expect was to come home and see this. Now, every time they go up and downstairs, it's a full-on adventure journey. Frankly, there's nothing calming about anxiously maneuvering your way around giant rocks on your stairs so you don't get seriously injured.
Bottle of glue
A nice refreshing drink of clear glue - that's all we want when we need some hydration. In all seriousness, do not drink the glue. This company is another one on this list that needs to really rethink its packaging choices.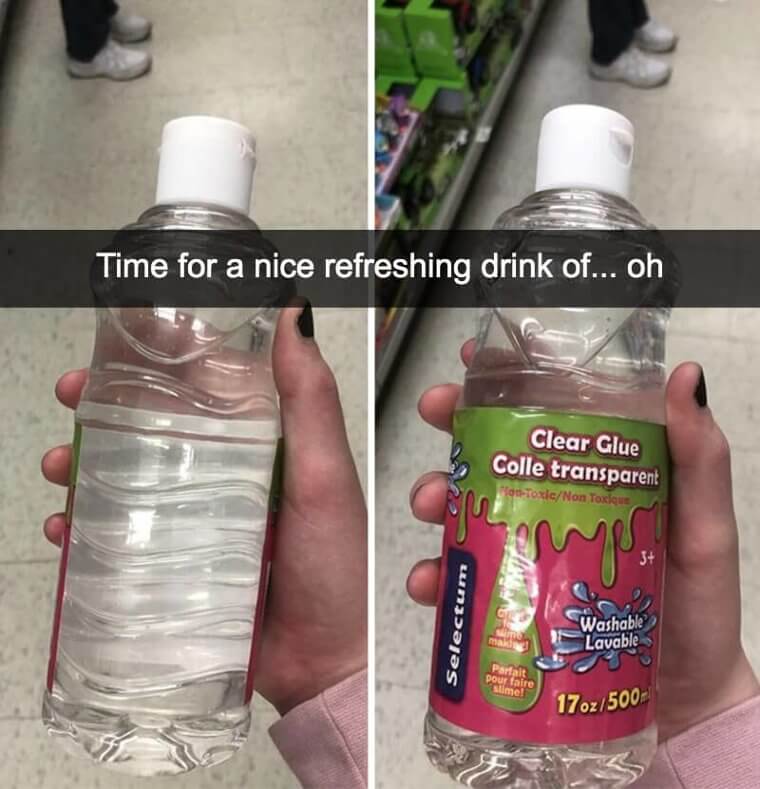 Why did they think that a standard drink bottle would be a good option to put their glue product in? If they're set on this, at least put warning labels all over the bottle that says "Do not drink!"
Back in my day…
Have you ever had an elderly family member say those words to you? Like, "Back in my day, we used to eat rabbit for supper." Or, "Back in my day, when we were being naughty babies, we would be put in an overhanging cage at the top floor of the five-storey building."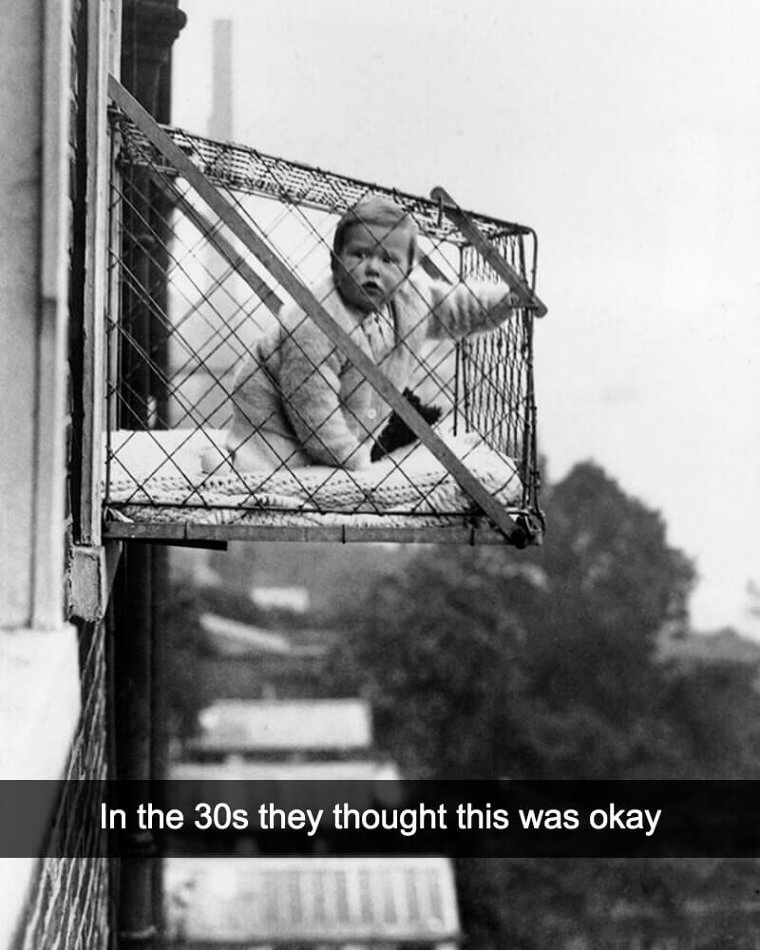 Sure, you thought. As if that were true - old people always make up these things to scare us, right? Well, here's the proof that this horror story is actually true.
Order is important
This sign could read as: "No Exit, Stop." But the actual order of the words is "No Stop, Exit." Now, considering that they are saying opposite things, this sign is creating a huge risk for people who might feel like they shouldn't stop and need to exit there, when in fact it is a stop sign as other cars will be entering.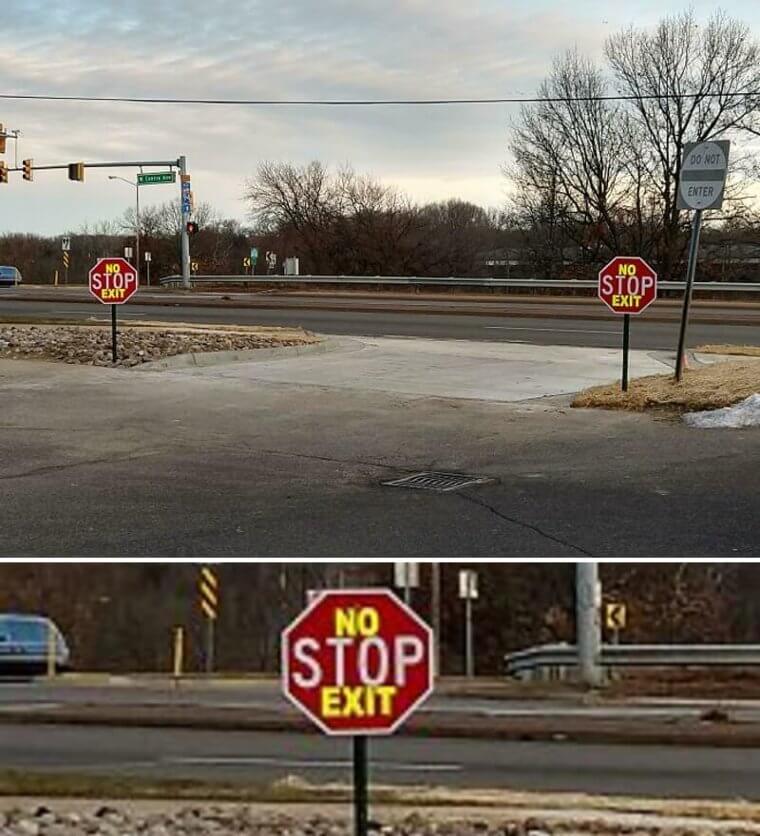 The disastrous directions could lead to a head-on collision. The lesson: the order of the words is very important.
Enter, if you dare
This style of entryway is subtly saying "we don't actually want you to visit us." They didn't want to get a guard dog, so instead, they opted for guard fish. Alright, the fish aren't actually don't anything but minding their own business.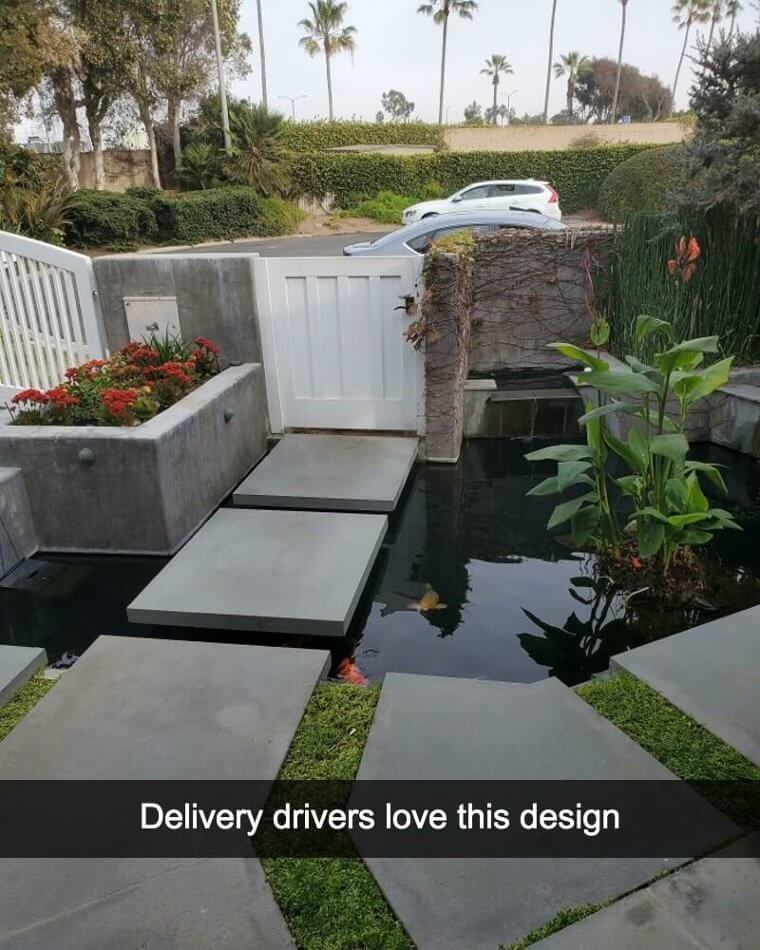 But the water is creating a difficult journey for anyone who isn't very carefully looking where they step. When it comes to evening delivery drivers - they have it the worst. They should have a sign that reads "deliver if you dare!"
Living on the edge
This senior's resort markets its establishment as an experience where you get to 'live on the edge!' Except they didn't say in the finer print that what they really mean is not so much that you'll have a fun and adventurous time...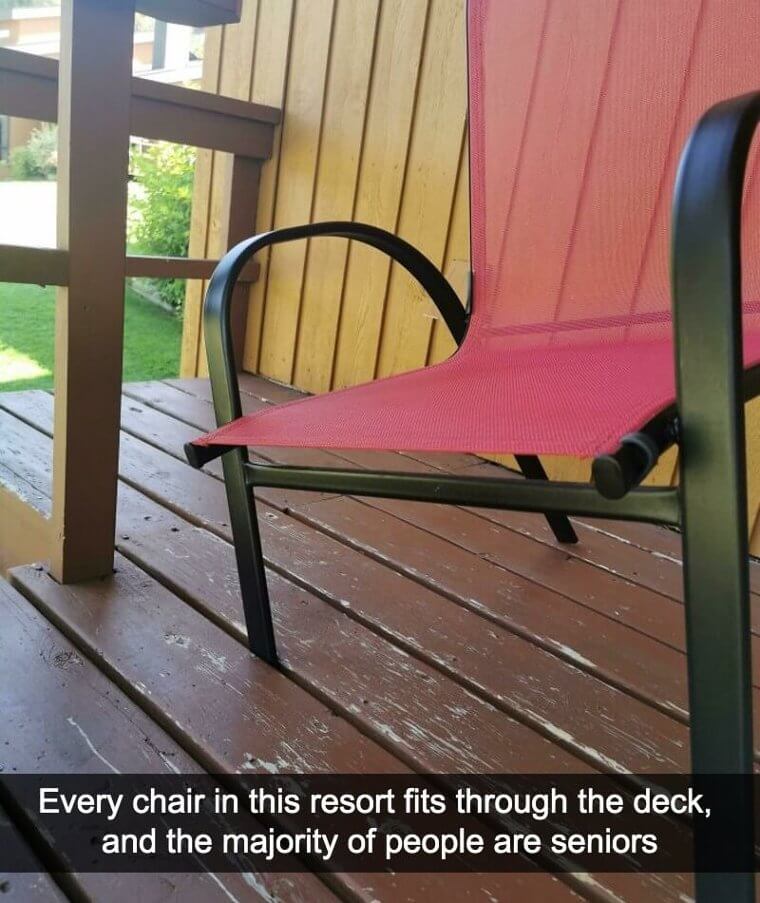 But that you will literally be on the edge of falling over when you try to sit on your porch. It's as if someone ordered the wrong chairs, and their solution wasn't to return them but to just change their marketing tactics.
Destructive creation
Here is an example of a creation that actually destroys things. Not only that, the whole purpose isn't to melt cars or fry eggs, it's simply meant to be an office building.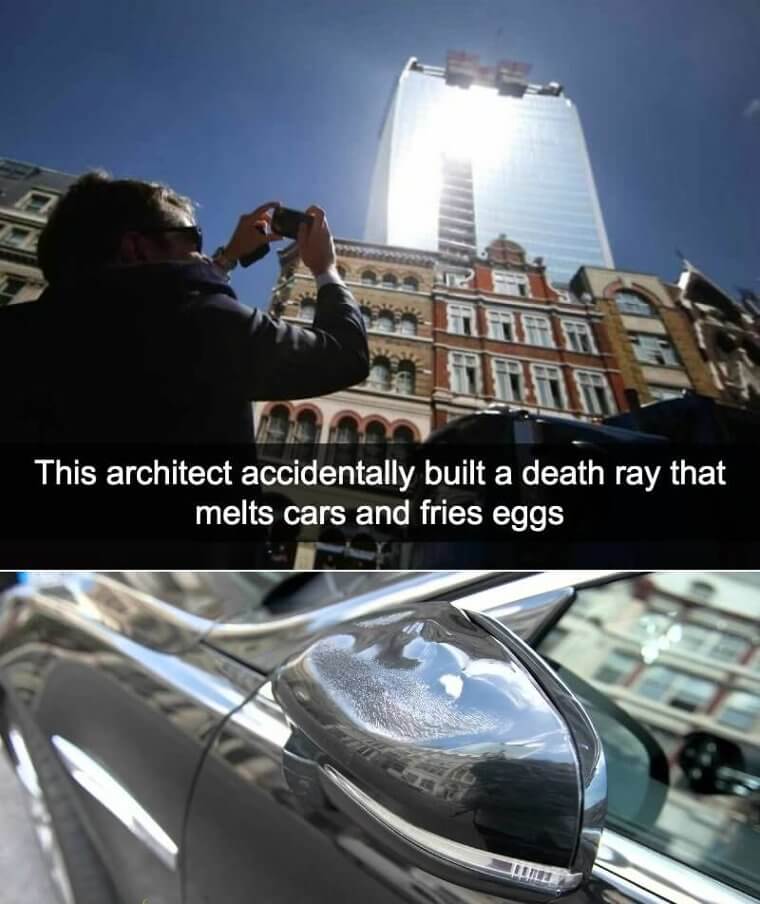 It's almost like the architect might have had a personal vendetta against this city, sneakily planning for the materials that make up this building to have extra destructive benefits for all people in this section of the CBD. It's either that, or he didn't factor in the effects of the sun.
Ouch
In theory, it was an awesome idea to create an underground parking space that operates from a remote. Two cars parked on top of each other - how genius. What isn't genius about this idea is knowing whether there is a car parked on the upper level before you raise it up.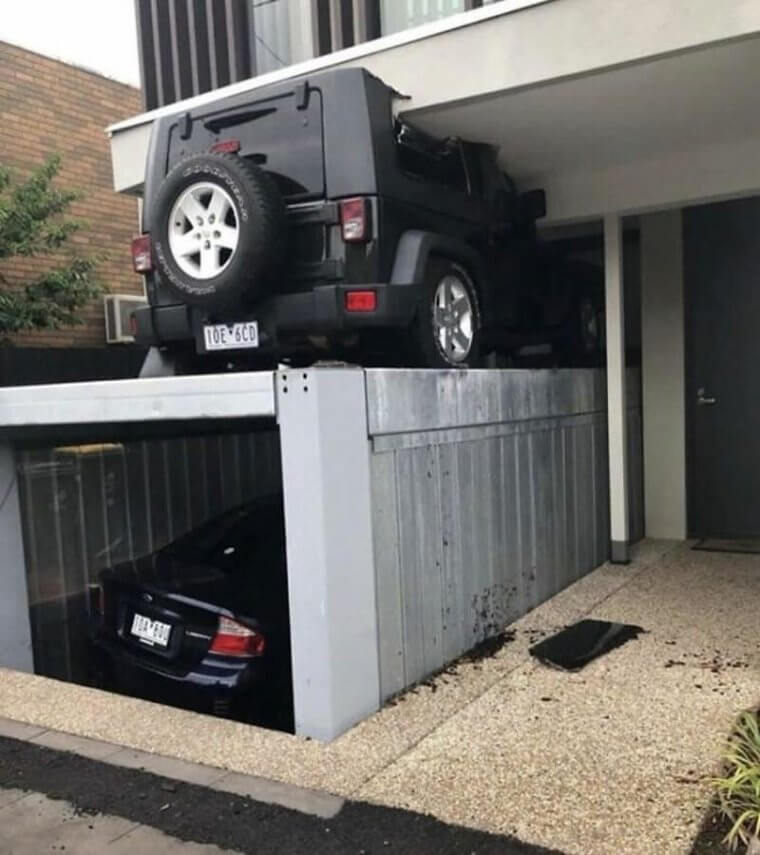 How were they supposed to know? Bye, bye to the brand new car that looks expensive. What kind of insurance would cover this situation, we wonder?
No, thank you
Although they appreciate the effort of putting the special bike lane markings on the road, it feels a little like a thoughtless act when the cyclists see this. It's like the road safety authority said "sure, we'll make it safer for cyclists on the road by giving you your own lanes."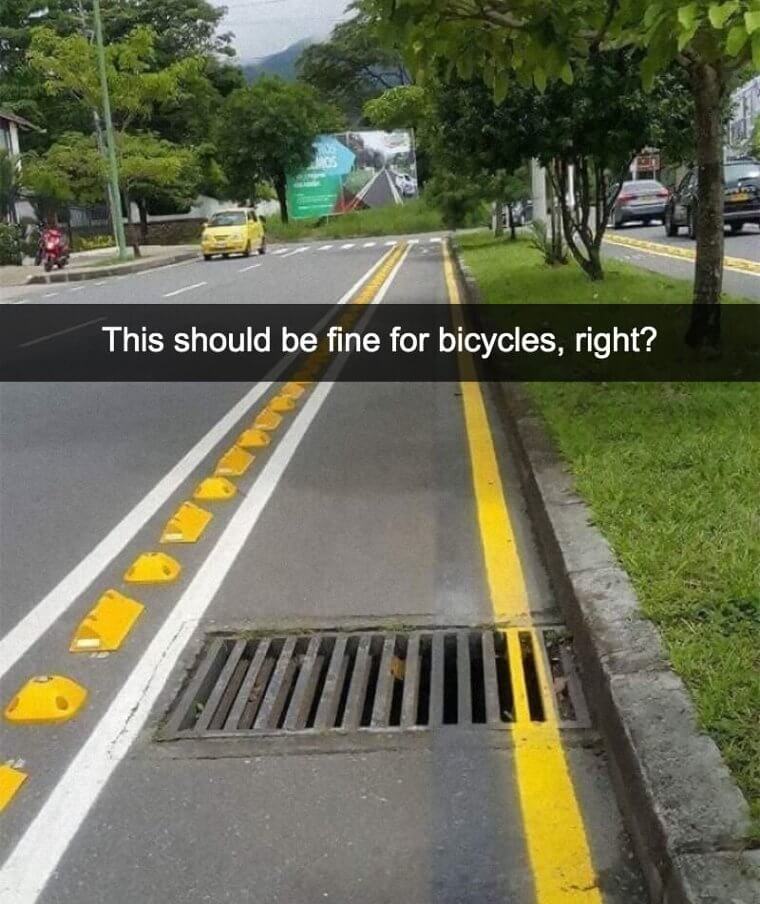 What they really meant, however, was: "we'll make a cycle lane so that it seems like we care about your safety, but we won't actually put effort into it being legitimately safe for you."
Zen bathing
Is this shower in the same house as the zen stair situation a few pictures back? If so, they really need to sort out their priorities. It should be safe first, then ambiance.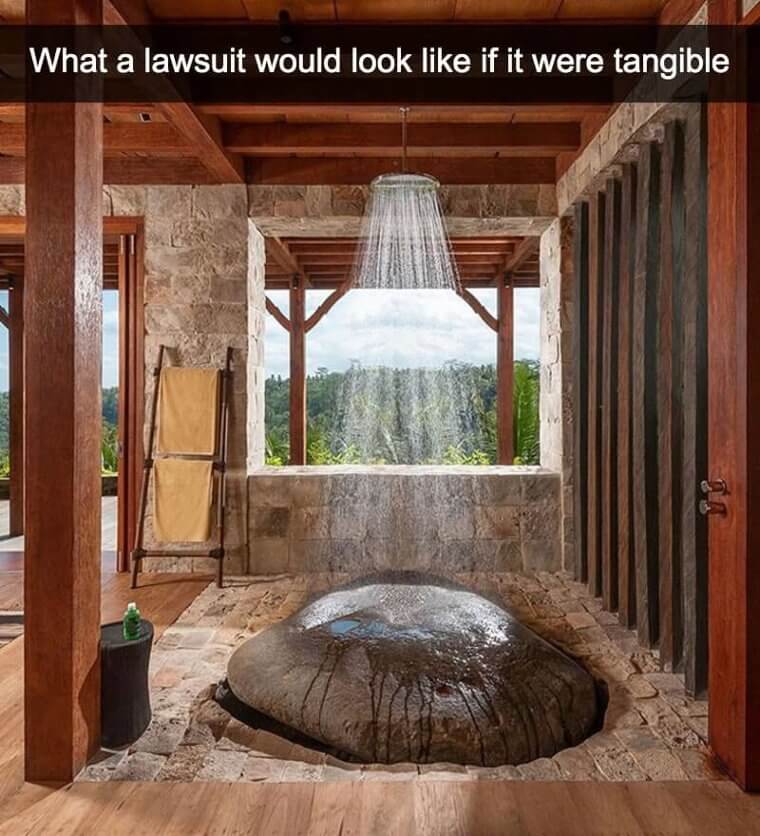 Instead, the designers are putting the interior aesthetics above safety, so that this bathroom looks exotic and unique, but functionally, it's a nightmare. You'd better not drop the soap in this shower, imagine slipping on this giant stone and the paramedics finding you naked as they come to rescue you.
Actually…
Is this a disaster waiting to happen? This photo makes it onto the list because it is more curious than it is risky. Although we suppose there could be a risk of a dangerous creature breaking in at night, or a strong gust of wind taking the whole thing apart.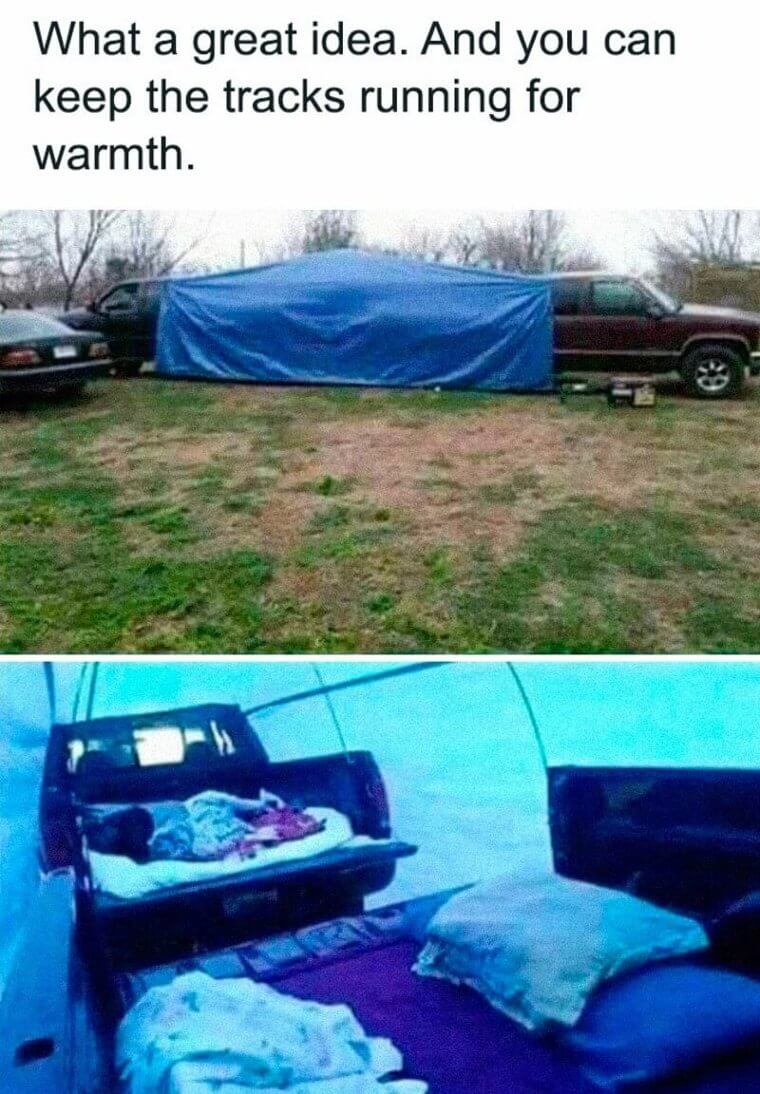 In terms of creative thinking, however, we're actually impressed. No tent? No worries! Just use a giant tarpaulin, and you've got a shelter for the night.
Action shot
How did this pass safety standards? Was the person who approved it blind? This action shot was used as evidence in the court case of the people against the public park sector of the local government.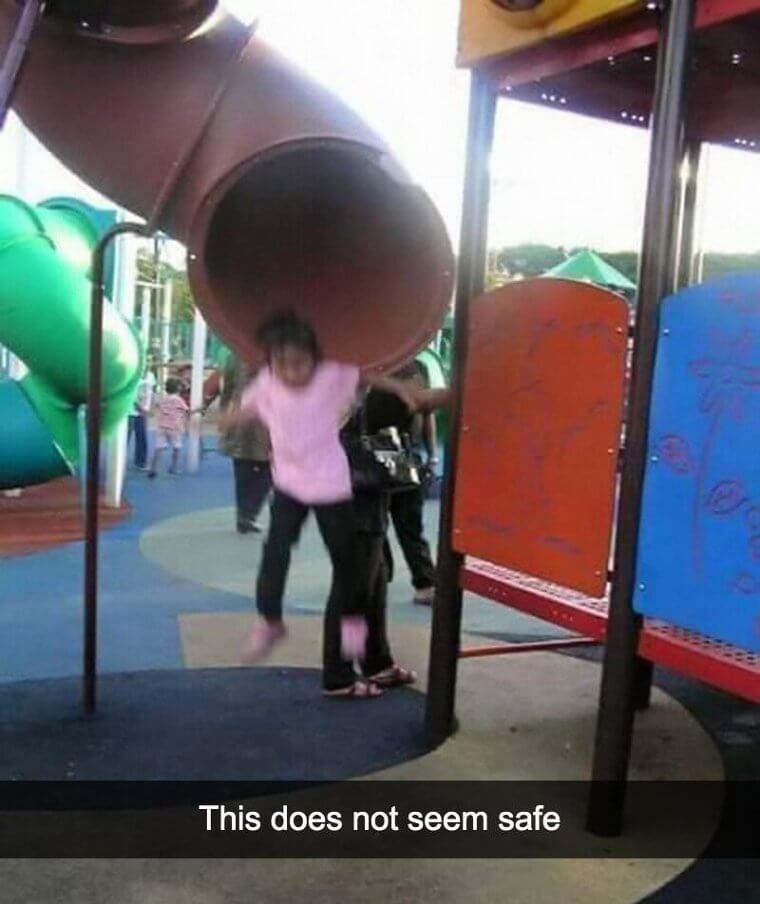 There's no way that this little girl (and every other kid who went on this slide) didn't get hurt. It really was designed as a lawsuit waiting to happen. We just hope that the kids weren't hurt very seriously.
Didn't think that through
Someone go inside and get that man out of there. This is what the firefighters (or super strong girlfriends/boyfriends) are for - carrying out all of the people who can't get out themselves.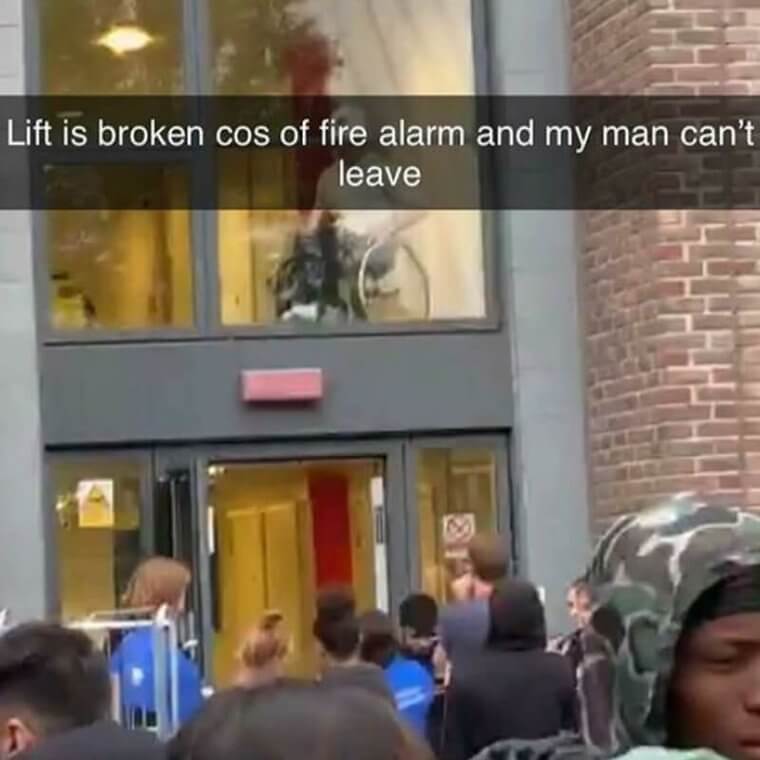 Poor thing has to wait for them to arrive, and we hope he didn't have to wait long. He could only just look out the window longing for the safety and freedom everyone else gets to enjoy as they're able to use the stairs.
What is this?
If this kickball isn't for kicking, then what is this ball even supposed to be? Is it an ornamental ball? Just a decoration? One of those balls you buy to make you feel like you're a sporty person but actually aren't active at all?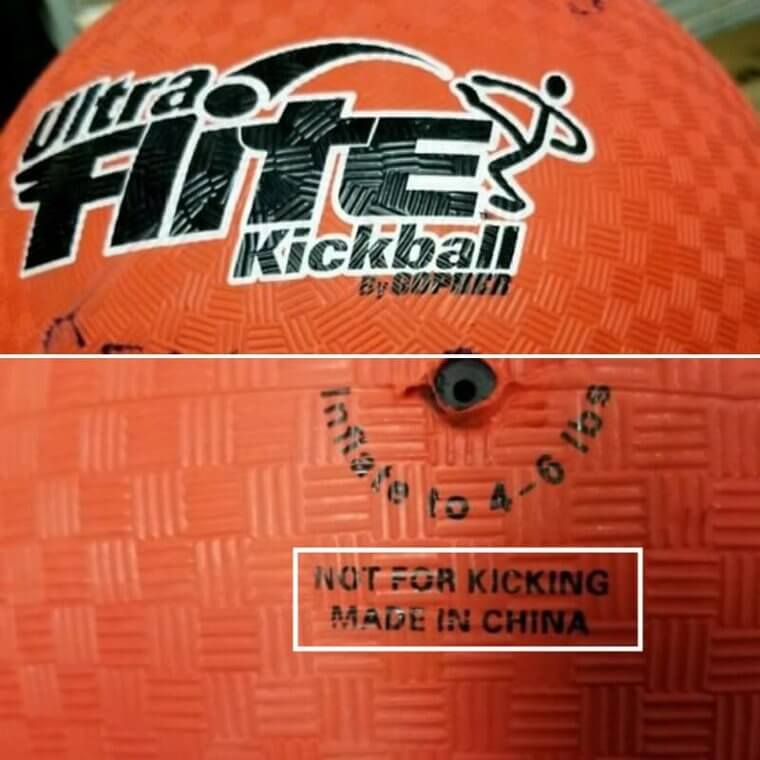 This kind of labeling is like putting on the box "drinking milk" and then having a safety warning that says "this is not milk, and it is not for drinking." Completely nonsensical.
Safety first
They put in this gate for safety reasons. They just didn't think about the fact that this actually creates more of a safety risk if someone fell. At least if there wasn't a gate and someone fell off the edge, they could roll or get up and walk away after it (given that they're not badly injured).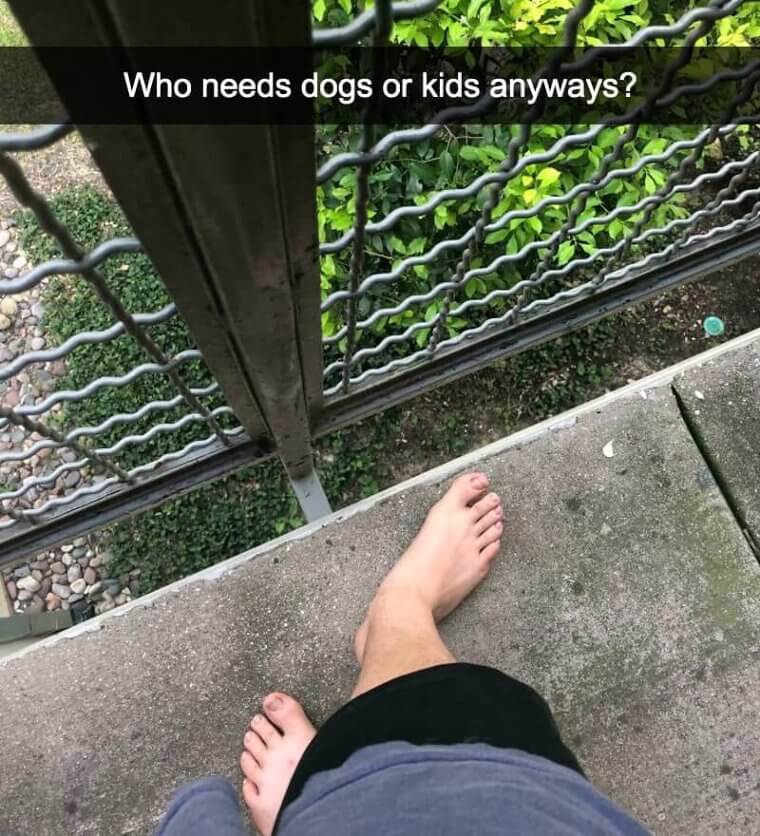 But now, with the small space between the gate and the ledge, if someone falls, they've gotta deal with the fall and with being stuck.
Floating foundation
Uh, looks like no one told the construction team that the foundations are supposed to go inside the ground. Now, we're left with some kind of dangerous popsicle-building hybrid. Maybe that's what the plans looked like all along and the construction workers got it right.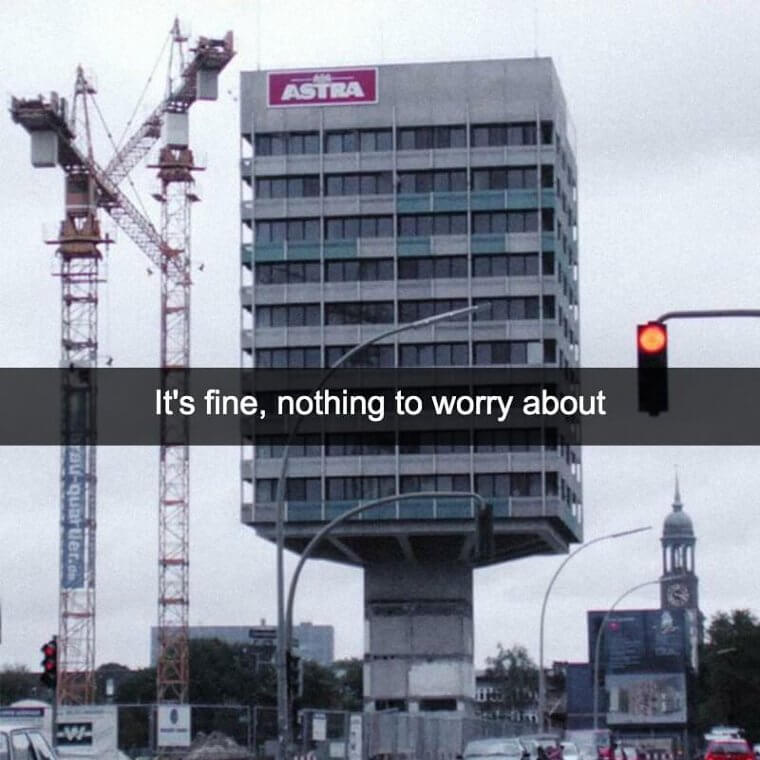 It could have been the architect that got it wrong. Maybe it was their first-ever building design and they forgot the very important note that said: "foundations to be underground."
Just stay home
No, kids, you don't want to go to the playground, trust us. You'll have more fun in the safety of your yard at home. Plus, there's no chance of you getting serenely injured if you fall over. What's crazy about this playground is also that there is plenty of soft, safe grass (more ideal for a swing).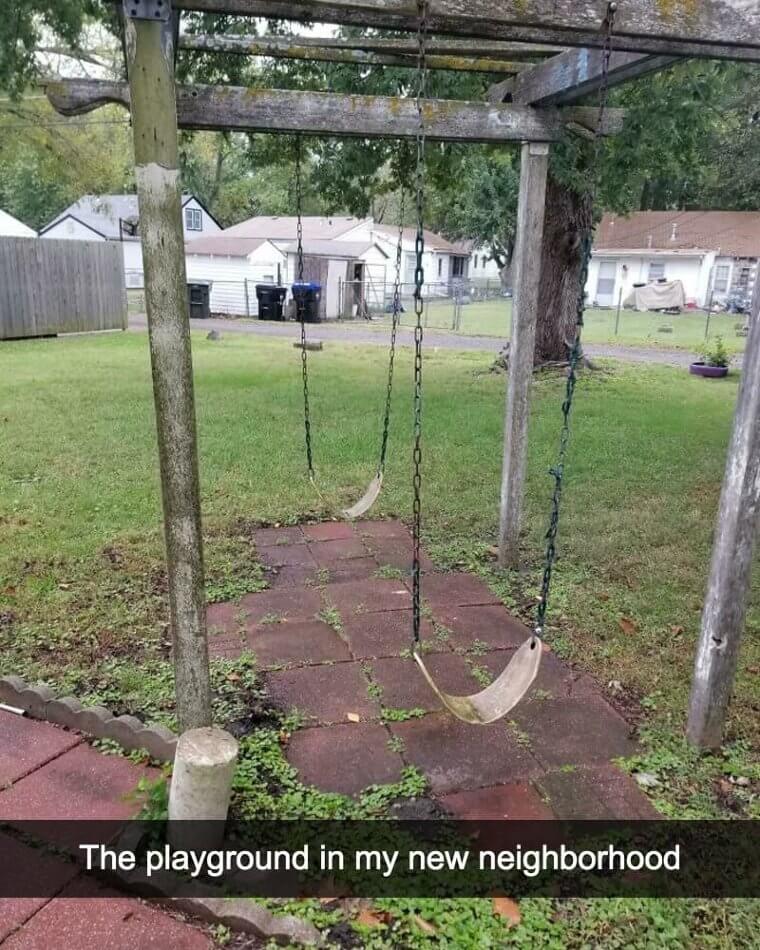 They just thought it was a good idea, for some reason, to put concrete tiles in the exact place that if a kid fell, it would really hurt.
Don't look up
These people are very casual about the fact that a huge airplane is very close to their heads as they are taking off and landing. Far too casual, if you ask us.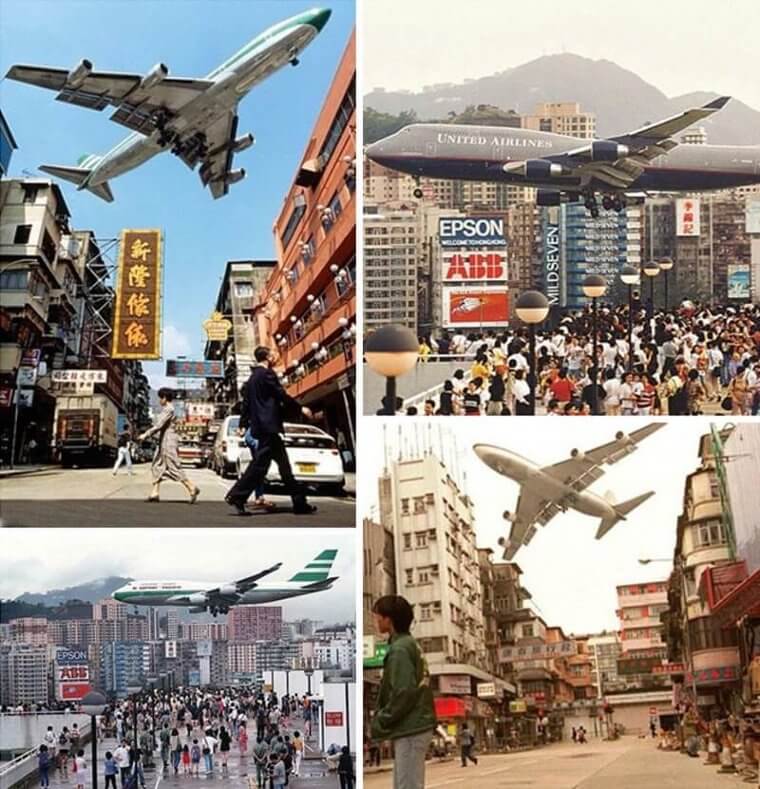 Also, imagine how loud it would be! Maybe only visitors notice the sound, with everyone else being so used to the deafening engine jets overhead that they don't notice it anymore. Either that or their eardrums have burst and they're all deaf now.
Two choices
You get two choices in this classroom. Number one: you can learn the content you need to in your lessons by watching the projector (but also pass out from the stifling hot temperatures).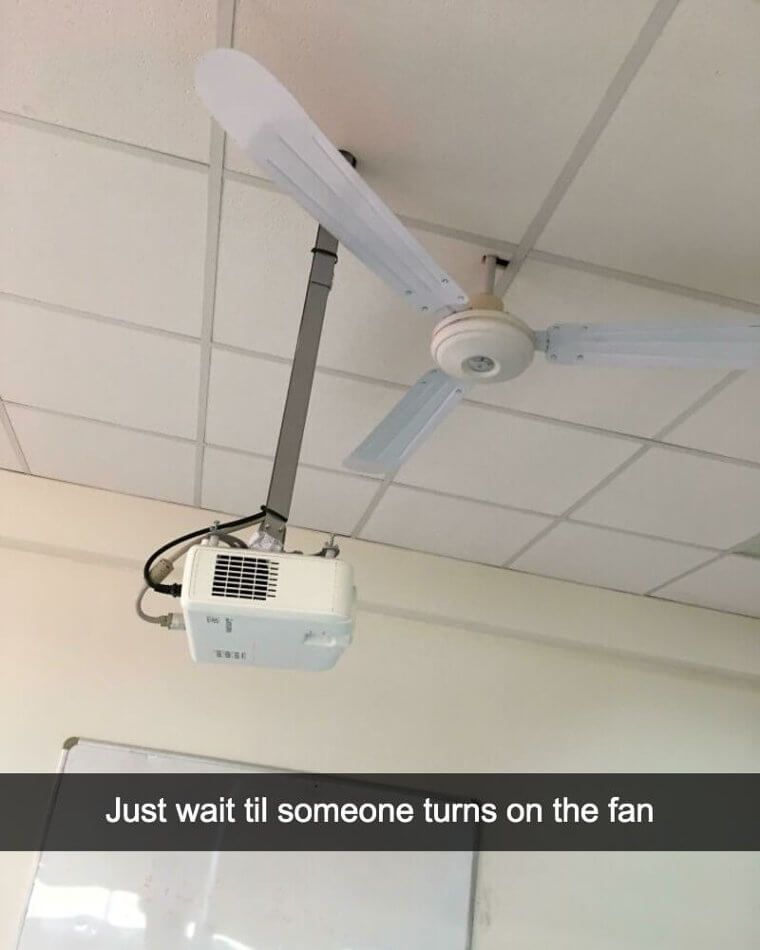 Number two: you can cool down with the fan as you sit in class, but never be able to learn what you need because the projector is destroyed the moment the fan turns on. So, what will it be? Education, or health?
Not a fan of kids
The designers of this kid's playground weren't messing about. Maybe back in 1912, this society had quite harsh militant ideals for the way that children should be raised. We can imagine how the meeting went when they designed this; "kids are getting too soft.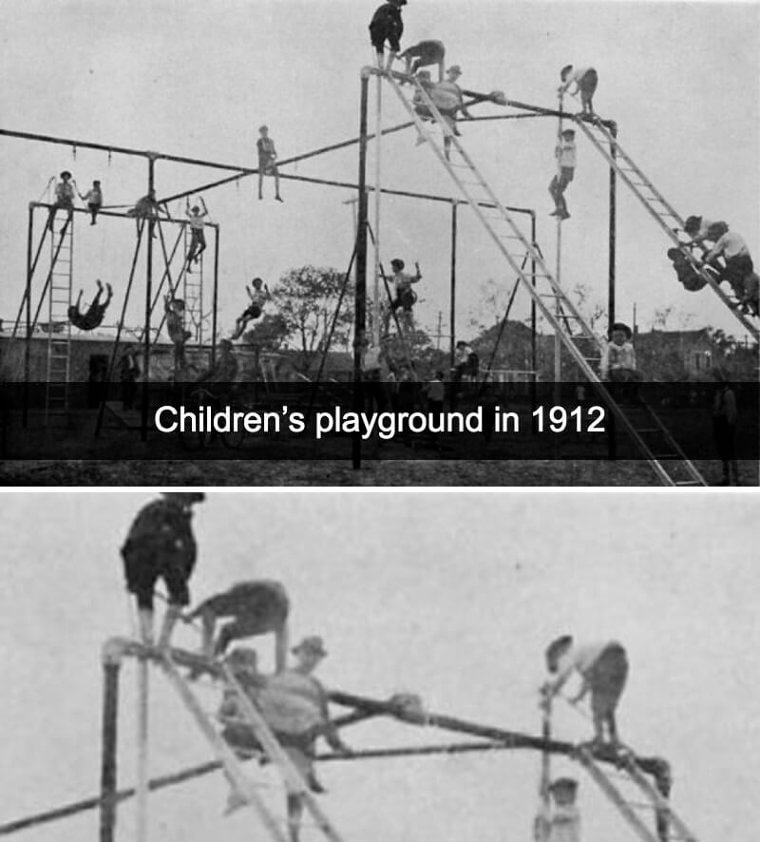 They need to learn resilience and what better way than to create a playground that forces them to get strong and deal with pain?!" Well, somehow this playground idea didn't stick, since they definitely don't look like this now.
Try to play now
Built by a disgruntled person who was sick of hearing the sounds of kids playing in the playground below. Did they decide to 'chip in' to the local playground that's underneath their apartment building by adding a ride that just makes kids sad and choose to go to a different playground?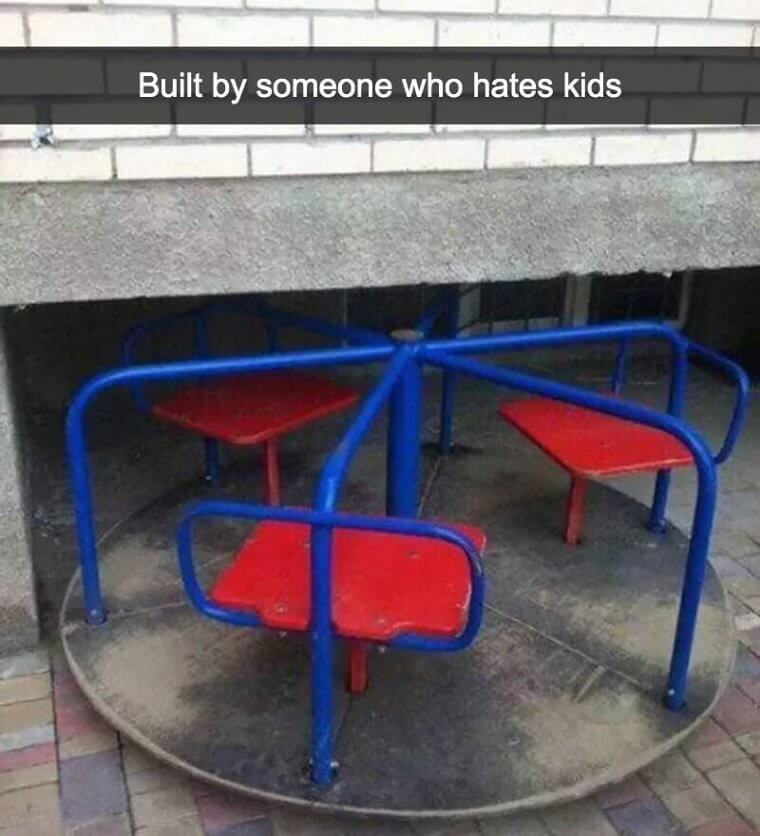 If so, it's a very complex way to solve the loud kid problem. You could have tried asking them to be quieter, maybe… This just seems like a whole lot of effort.
Welcome
That's one very strange way to welcome patients into the doctor's office. Maybe it helps people feel more grateful for being alive? People don't get so sad anymore, because originally they see it, think it's real, and feel their lives threatened, only to later realize it's just an ornament.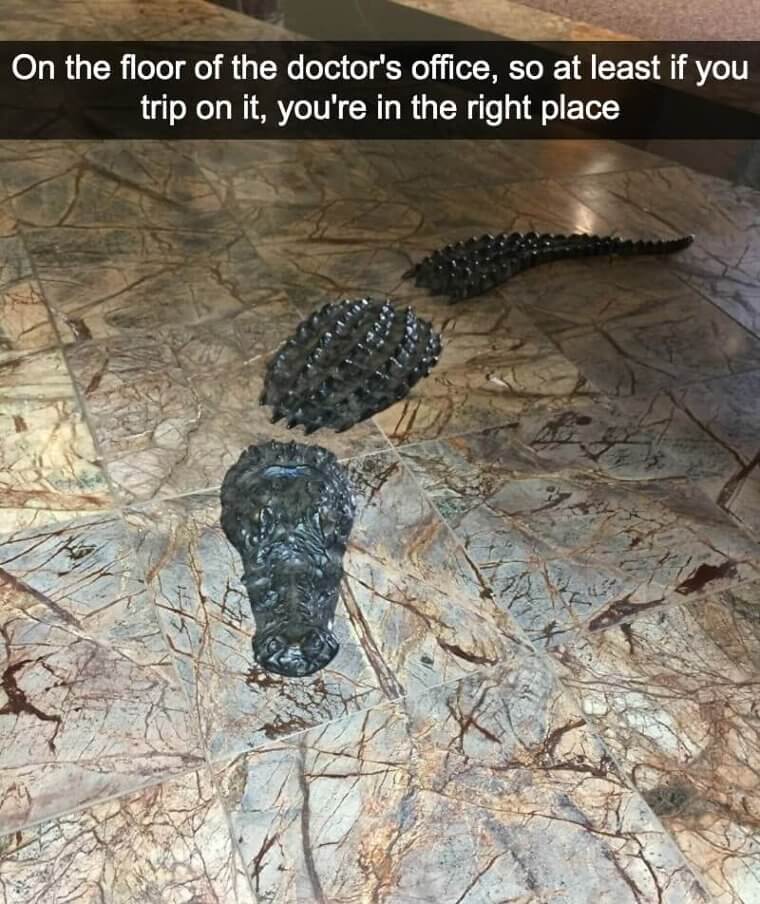 That's one way to anchor your gratitude for being alive, no matter how sick you might be feeling going to the doctor's office. What an elaborate plan this was, on the designer's part.
True to the fairytale
This ring is not only aesthetically accurate, but it's also accurate in the feeling it pulls you into when you wear it. Just like this fairytale, you'll feel hurt and betrayed by something seemingly beautiful (or every time you go to reach something). Who will save you? The prince, of course.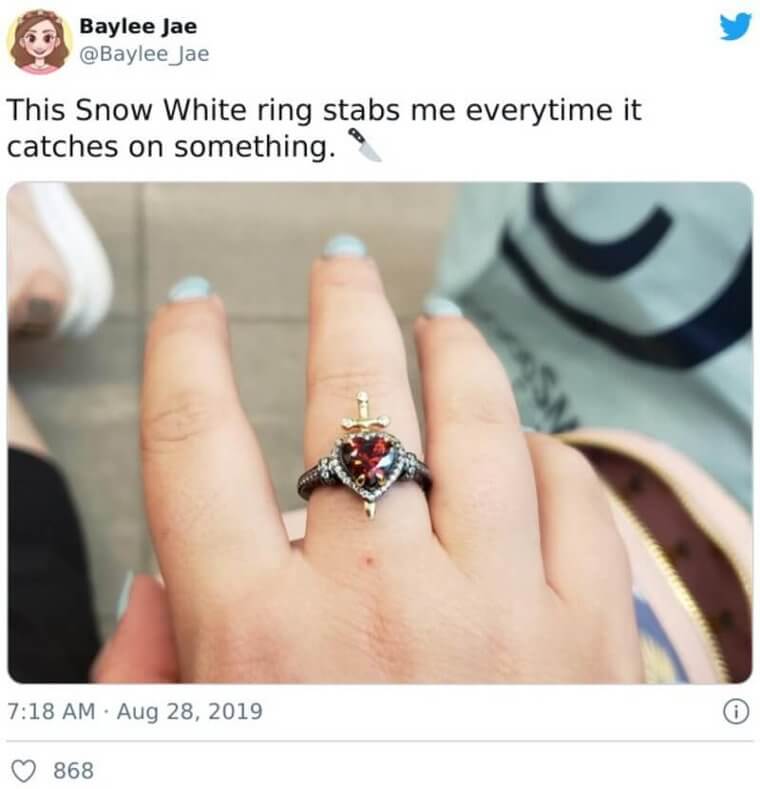 Just don't ask the same prince who gave it to you, clearly, they didn't get the memo about the kiss being the thing to save you, not a pointy pretty ring.
Don't get out
If somehow, you make it into the bathtub alive, you'll have a much harder time trying to get out of it. You could try to jump, but since you'll be wet and slippery, you will likely get hurt landing on the stairs (which will hurt whether you're slippery or not).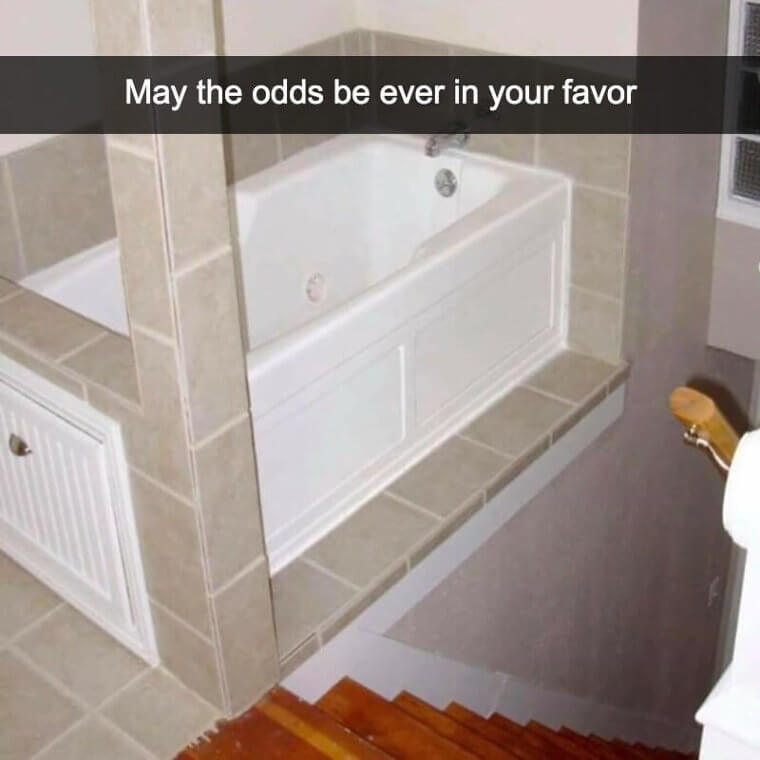 Imagine taking a dimly lit evening bath, only to forget where you are and casually go to exit until you remember mid-fall that you bought a house that had a completely illogical floor plan.