Located in the Mediterranean, Malta is a small island country that's big on culture. It's history is steeped in both Italian and Arabic influences, with a mix of both in their distinct Maltese language— Malti. Surrounded by the Mediterranean's blue waters and bathed in sunshine, Malta is a secret vacation destination that never disappoints.
Maltese History
Malta consists of five islands. Malta (the largest), Comino, and Gozo are the main three islands. The two Malta islands of Kemmunett and Filfla are uninhabited. 
Throughout Malta's islands are a scattering of mysterious temples dedicated to the goddess of fertility, built around 3500 B.C. Some of these structures are the oldest surviving buildings in the world. Throughout history, the Phoenicians, the Romans, the Byzantines, the Carthaginians all occupied Malta, leaving their cultural influences behind.
During more modern history, Malta was occupied by the Arabs. In 1091 Malta was conquered by the Kingdom of Sicily, which they lived under until 1798. The next country to occupy Malta was the French, then the British in 1813. Malta has been an independent country since 1964. 
Temples and Legends
For people seeking out ancient temples of worship, the Maltese temples rank high on the list. The temple of Ġgantija, for example, is thought to be the oldest stone building in the world. Older than Stonehenge, Ġgantija is considered to be the oldest free-standing stone building known to man. 

Legends say the humongous stones making up the temples were moved by giants, and when seen in-person it's easy to see why the legend exists. The extensive National Archeological Museum houses sculptures from the temple. Located in Malta's capital city of Valletta, visitors flock to the museum to see some of the oldest artwork known to man.
Culture and Cuisine
Maltese cuisine is a reflection of its history and geography. It's status as a vital trade route in the Mediterranean and multicultural influences shape Maltese food. Arabic, Italian, French, and British ingredients are woven throughout Maltese dishes. By incorporating many influences, Maltese food adapts unique variations of regional dishes from other countries.

Like it's cuisine, Maltese culture includes traditions from many of its former rulers. From its religion to its architecture and celebrations, outside influences are evident in its day to day culture. Rich in tradition and pride, the Maltese people honor the "Golden Age of Malta" — the rule of the Knights of Malta — throughout its modern culture. The cross of the Knights can be seen on the country's euro coins, national airlines, and on flags.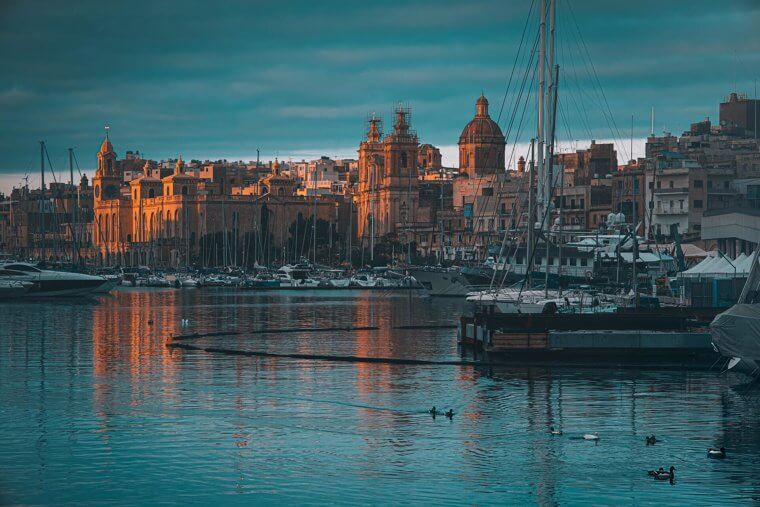 A Traveler's Gem
Visitors to Malta are surprised to find that most of the Maltese population speaks English fluently. Though the Maltese language is complex, most visitors find that they can communicate easily with locals and most signs in Malta are in English. The Maltese people are also diverse and open, perhaps due to its multicultural history. 

The Mediterranean climate provides Malta with warm weather year round and plenty of sun, which is perfect for swimming in its clear waters. Not only does Malta have picturesque fishing villages, but it also offers beaches like Mellieha Bay. These beaches contain pristine waters that are ideal for snorkeling and diving, or laying out in the sun.
Malta's secret lies in its uniqueness. It's language, long history, and it's cuisine are a result of its amalgam of influences. In Malta, visitors have a getaway like no other, making it a memorable and lasting experience.